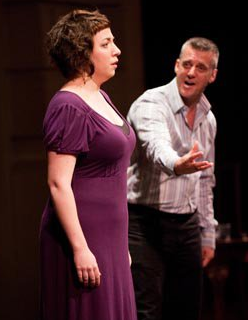 Photo by www.kristenloken.com
Merola Opera Program Master Class
Herbst Theatre
Renee Rapier and Chuck Hudson
Last week, we shared Part I of our conversation with Chuck Hudson, stage director and master teacher, which covered Chuck's coaching philosophy and tips for success in the audition room. In Part II, Chuck shares his thoughts on putting your best foot forward in performance; he also provides tremendous insight into how best to cultivate your network and sustain your relationships with potential future collaborators and employers. Thanks, Chuck, for another must-read piece.
---
Please share a little about your directing background.
My particular approach to directing is acutely physical and visual due to my years of work in Europe with Marcel Marceau and various other Movement Theatre Companies. I direct opera productions at US and international companies including Cape Town Opera (South Africa), Florida Grand Opera, Seattle Opera, San Francisco Opera Center, Wolf Trap Opera, Minnesota Opera, Sacramento Opera, Opera Santa Barbara, and Caramoor Opera among others. I have also directed theatre productions in New York and regionally, including The Pearl Theatre, The Children's Theatre Festival of Houston, New City Theatre, Chester Theater Company, and Chicago's Fox Valley Shakespeare Festival. My Off-Broadway production of She Stoops to Conquer was extended to run a total of 4 months after its review in the New York Times and was awarded one of the Joel A. Callaway Awards by the Actors Equity Association. My production of the One Man Show DARK AT THE END OF THE TUNNEL opened in NYC last fall, toured to Dallas this Spring, and returned to NYC just this month.
How can a singer put their best foot forward from day one in staging rehearsals?
Say "yes." And, as good improvisational training will tell you, say "Yes, and…" offer something more that moves the action forward. We all want to be collaborators so if a singer is a collaborator, things move along quickly.
Simply put: Take the proposed direction, produce the desired result and you will have proven yourself to be flexible and open-minded as well as willing to think "outside the box." This will allow the director to trust you, and will perhaps be more open to your creative input. This is also a time-saving device, because with the time left over—after following that direction—you can propose the following: "May I show you something?" Here is where you SHOW the director what you have in mind rather than trying to "explain it".
I mentioned this while I was directing at Music Academy of the West a few summers ago and later in a tricky and complicated staging rehearsal one singer looked at me and said just that phrase through her smile! I said, "Yes please…" and the work went ahead incorporating her wonderful idea.
Any common choices/mistakes that singers make to "sabotage" their own stage performances?
You must dare to be Excellent. One of the 9 Value Statements I give performers when I work with them is "Am I settling for mediocrity when I could be striving for excellence?" Complacent performers, as well as those with an unconscious fear of success, will always find a reason NOT to work at the top of their capacity. In fact, they are very creative in finding ways to avoid the work!
In Sports Psychology as well as in the psychology of Performance Anxiety, professionals will help you determine whether you Choke or Panic when things go awry. They are not the same thing, they do not have the same effects on you, and they each call for different remedies. If you go up on your text or if you freeze in public, was it because you choked or did you panic? If you don't know, you cannot address the problem.
From a director's perspective, what are some dos and don'ts for how a singer should interact with fellow singers and production staff?
Back to the idea of collaboration: be a good colleague. The golden rule! Daring to risk will only happen within an environment of Trust. Trust is earned and a reputation as a trusted colleague takes some time to build—it only takes a second to destroy. We have all been on both sides of that happening. Be professional in work ethic as well as "bringing it" 100% every time you are in rehearsal. Be polite to the administrative secretary because 5 years from now she may be the Artistic Administrator—and she will remember you!
How can a singer best maintain a strong relationship with you for networking purposes after the show has closed?
Creating and Maintaining Relationships is integral to any business, and as artists we are essentially Self-Employed and Freelance. I believe in what I call SUCCESSFUL CREATIVITY, and so we must find ways of generating a successful career as well as creating great art—we need to make a living doing what we do just as any professional does.
We are in a Referral Business so I maintain a database of singers that includes where I have worked with them and whether I have directed them in productions, and this allows me to keep in touch with them about my work either through my website or via Email Newsletters. This is a marketing tool singers can employ themselves, and I enjoy hearing from singers who are letting me know where they are and what they are doing. In fact last season, I was invited to speak on a discussion panel on just this facet of communication and organization in the arts presented by Opera America in NYC and you can find a lot of good information on their website.
Singers can follow my work by Subscribing to my online database at
http://chdirector.com/about-chuck/subscribe/
Have you had occasion to recommend a singer for a job in which they were hired based on your feedback? Is it common practice for administrators and hiring personnel to ask directors for recommendations?
Yes! As I said just now, this is a referral business. Out of absolute necessity, producers are spending more time scrutinizing their budgets, and need to be able to rely on directors as problem solvers; to know how to achieve performances of supreme artistry in an economic fashion. For me, that happens best when I know I have a cast of singers I can RELY on. When I am offered to direct a production that does not already have a complete cast, I am often asked to recommend singers for roles. Sometimes I am asked to propose a future production to a company and I will propose singers for that production—especially if my enthusiasm for directing the show is due to my history with a particular singer.
I propose singers with the dramatic and vocal tools necessary to succeed in the rehearsal process, which translates into both an effective use of rehearsal time as well as creating engaging, high caliber performances. I have also been able to call upon trusted singers at the last minute to replace another singer in an emergency, because I know this particular artist is going to show up equipped and ready to maintain a level of 100% excellence in the most challenging of circumstances.
What aspects of a working relationship with a particular singer would mark them as "recommendation worthy"?
Talent may get you hired once; talent combined with a strong work ethic will get you hired again or not hired again. It is the same with recommendations. I rarely write letters of recommendation if I have not directed a singer in a complete production, because I do not know if they come through in performance. When I work at Young Artist Programs, I evaluate each individual singer on several pieces of information. To be considered EXCELLENT (and therefore meriting a letter of recommendation), these are the criteria I use:
EXCELLENT singers raise themselves above the rest in the group and are the locomotives. Their approach is mature and sophisticated, their work ethic professional, they are detailed and specific in their physicality (even though for many the work is quite challenging), they find grace and a sense of the organic human being in their work, they are generous to others in improvisation, they remain in the moment while discovering ways to apply the techniques to their characters, they play status well, they have an aesthetic sense of proportion that makes them compelling to watch, and their attitude in rehearsal makes my work with them a pleasure. They are always early or on time, attentive to me and to the detail and specifics of the work, listen to their fellow performers when they are speaking, respect one another, pursue the challenges of the work with enthusiasm, ask intelligent questions, take criticism well, and enjoy the work without being childish about it. I gain a true respect for these singers due to their maturity and advanced level of commitment to the Acting work.
There is actually a category beyond EXCELLENT that I call SUPERIOR, which contains that 1% of artists for whom I will go the extra mile as an advocate because they do the same working with me. Greatness is demanding, it does not just happen. Of course this is all very subjective to me personally and to what I value, as it is with others for whom a singer will audition.
Any final thoughts on what a singer can do to shine on stage?
I have found that there is one thing that most performers do not take into consideration as they are auditioning. Remember, the panel is ON YOUR SIDE. We SO want you to be the one we choose from the minute you walk in the room. Now here is a thought that will be playing under everything that happens in the room: "Do I want to spend 3 weeks in a rehearsal room with this person?" And if it is a program, "Do I want to spend several months working with this person in a group of others?"
Be yourself. Seriously, just what your parents have always told you. But who are you? Thousands of years ago a piece of advice was inscribed above the Temple of Apollo in Greece: KNOW THYSELF. Look back over this entire interview and really it all boils down to that! BE YOURSELF…well, you cannot BE yourself if you are not self-aware, aware of others, and then take some action to KNOW yourself. It will make you a better artist, and it will make you a better person, too.
---
Like this discussion? Please share your thoughts on our Facebook page at or contact us . See what a Coaching with Chuck looks like on his website:
http://chdirector.com/production/2010/06/merola-public-master-class-san-francisco-opera-2/