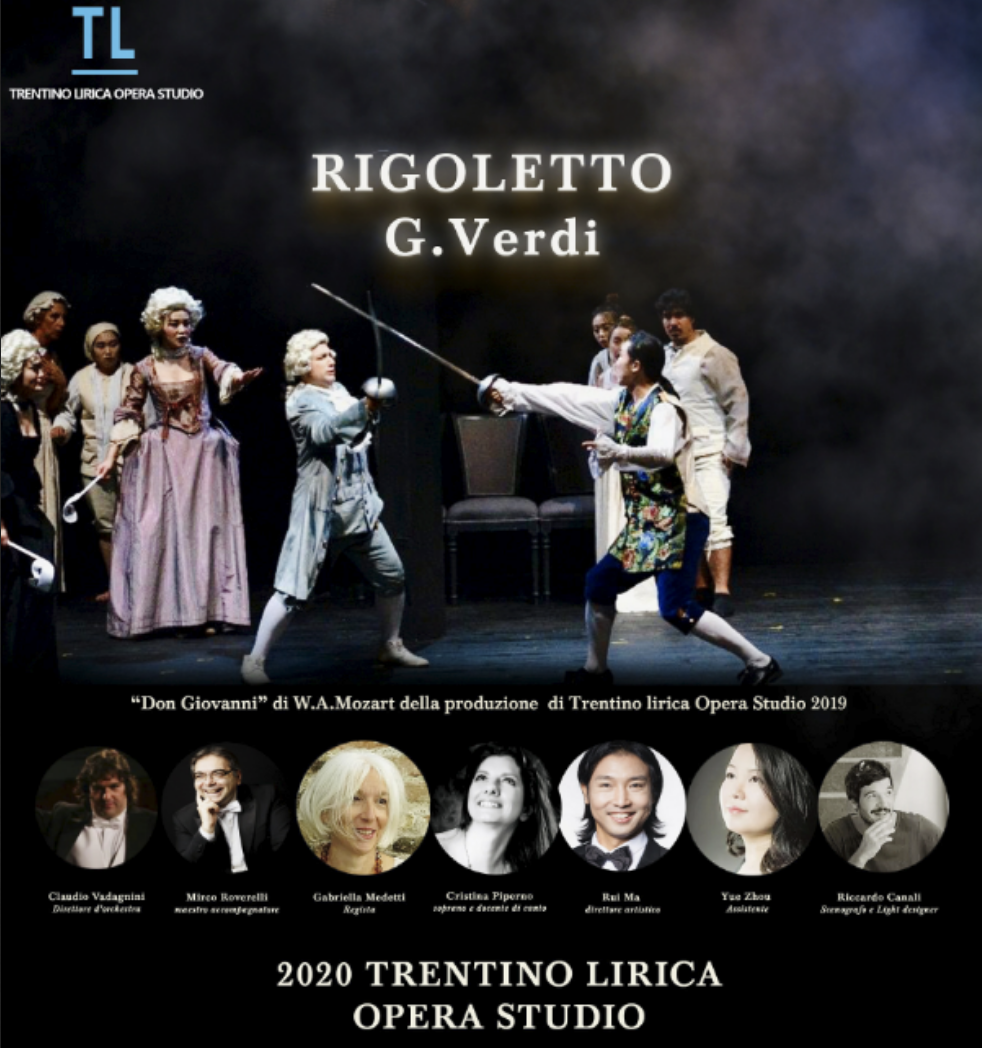 Active since 2018 Trentino Lirica Opera Studio offers the singer the fascinating challenge of taking on an operatic role, perfecting it and making his or her debut in theater in a complete staging, directing, scenes, costumes and lights. The laboratory also has the purpose of meeting the particular training needs of foreign opera singers, to whom we want to offer the linguistic support necessary to follow the technical-vocal and scenic-interpretative path in the Italian language. The accompanying pianists are offered the opportunity to perfect the study of the score with the orchestra conductor and to accompany the complete work during rehearsals and in recitation. Our team of teachers and professional masters includes: Claudio Vadagnini (conductor), Gabriella Medetti (director), Cristina Piperno (Vocal tutor), Mirco Roverelli (Pianist & Coach), Riccardo Canali (director of staging and light), Rui Ma (Director Artistic), Yue Zhou (Assistent).
2020 Trentino Lirica Opera Studio organize the audition for selecting all roles of G.Verdi's Rigoletto in a full operatic production with two performances accompanied by professional orchestra, in a complete staging, costumes at Teatro Villazzano di Trento at the capital city of Trento in Italy, application is open to the opera singers and the accompanying pianisti with no age limit and all nationalities, will be selected two cast for each role and maxim 20 singers and 4 pianisti to partecipate to the program, application by video/audio recording is totale free, we aslo offer the scholarship and the deadline is 15 March 2020.
Email: trentinoliricaoperastudio@gmail.com
website: www.trentinoliricaoperastudio.com
Program dates and location:
the whole periode is from 25th July to 16th Augusut 2020, Trento, Italy
25th July to 31th July 2020, Masterclass with Cristina Piperno, Mirco Roverelli, Gabriella Medetti, with fianl Concerto of Masterclass, Rigoletto in semi-form.
1st August to 16 August 2020, Opera Studio with Claudio Vadagnini, Gabriella Medetti, daily musical and stage rehearsal, at the end of Opera Studio will be presented with two performances of Rigoletto with each cast, the rehearsals will be held at Teatro Villazzano di Trento.
1st august 2020, Concert di Gala' Lirico
14th august 2020, first recita of Rigoletto, full opera production with Orchestra
16th august 2020, second Recita of Rigoletto, full opera producation with orchestra
Material required
Check back for the application form.
The application must be accompanied by:
a) registration form filled in correctly
b) curriculum vitae
c) two photographs, (one in the foreground and one in full-length)
d) video / audio recordings of the candidate with the performance of 2 pieces of his / her choice, of which a compulsory piece in Italian and preferably an aria with recitative of the role in which one is a candidate.
Mailing Address
trentinoliricaoperastudio@gmail.com
Fees
Payment is not provided
The actual students, who will have received communication of the achievement of the selection phase, will be required to pay the following attendance fees, which do not include accommodation, travel and board expenses.
​
For the roles of: Rigoletto, The Duke of Mantua, Gilda, Sparafucile, Maddalena € 2,500
​
For the roles of: The Count of Monterone, Marullo, The Count of Ceprano, Matteo Borsa, Giovanna and The Countess of Ceprano and Paggio (the only soprano who will sing the three roles), € 2,000
​
The accompanying teachers: € 400
​
Auditor students: € 20 per day
Contact Information
trentinoliricaoperastudio@gmail.com