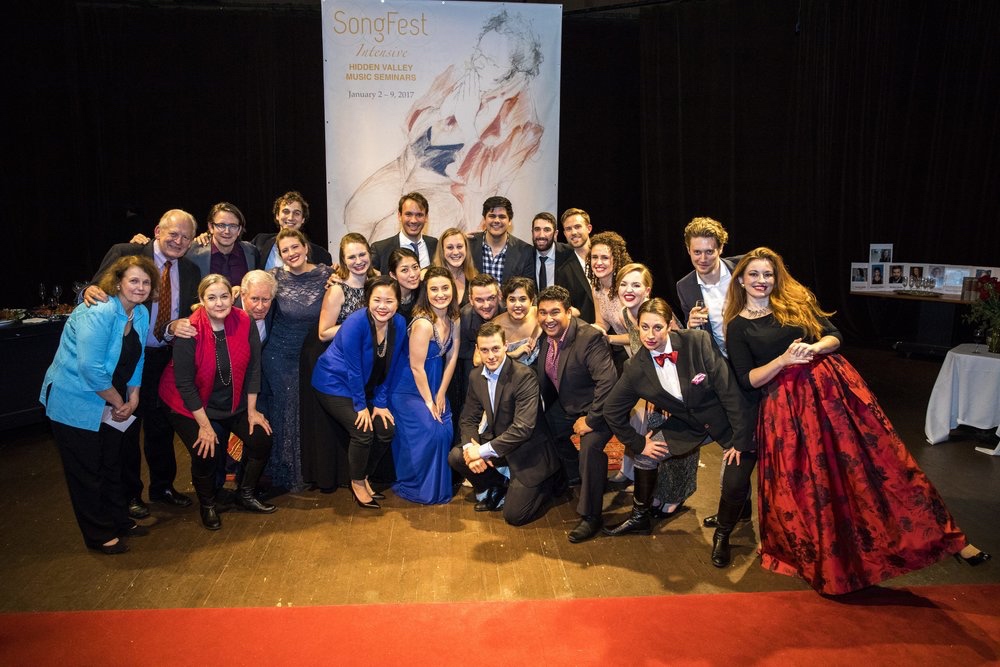 SONGFEST 2019
Dates: May 25-June 24, 2019
The Colburn School, LA
SongFest '19 is packed with new opportunities, programs and faculty. Located in downtown LA, SongFest is hosted by the prestigious Colburn School. SongFest is one of the only US festivals dedicated to the study and performance of song. At SongFest, the student as a unique and individual artist is the focus. Students will have the chance to work with our internationally renowned faculty and the best of today's living composers. With concert and master class opportunities and weekly private coachings, you will leave SongFest artistically fulfilled and inspired.
Guest Artist Performances:
-Susan Graham, mezzo-soprano & Malcolm Martineau, piano

Distinguished Alumni Recitals:
- Emily D'Angelo, mezzo-soprano and Kevin Murphy, piano
- Lucy Fitz Gibbon, soprano and Ryan MacEvoy McCullough, piano
- Maria Valdes, soprano

Guest Artist Master Class Opportunities:
- Susan Graham, mezzo-soprano
- Malcolm Martineau, piano
- James Conlon, conductor, Los Angeles Opera
- Grant Gershon, conductor, Los Angeles Master Chorale
2019 DISTINGUISHED COMPOSER: JAKE HEGGIE
SOREL COMPOSER Commission: REENA ESMAIL
A SongFest singer and pianist will be chosen to premiere this newly commissioned work "Meri Sakhi ki Avaaz" (My Sister's Voice) in a concert of New Music, June 21, 2019
Faculty:
Pianists: Javier Arrebola, Lydia Brown, Tony Cho, Margo Garrett, Graham Johnson, Kevin Murphy, Alan Louis Smith, Liza Stepanova, Mark Trawka, and Jennifer Tung
Composers: John Harbison, Jake Heggie, Libby Larsen, John Musto, Reena Esmail, and Martin Hennessy
Singers: Frances Bennett, Victoria Browers, Amy Burton, Kyle Ferrill, Martha Guth, Lorraine Manz, William McGraw, Jennifer Ringo, Sanford Sylvan, Mark Moliterno (YogaVoice)
Programs:
SongFest offers four different programs for students:
Professional, Young Artist, Studio Artist, and Pianist, each with its own unique identity and curriculum.
NEW PROJECTS IN 2019!

"Discovering the Magic of Song through the union of Poetry and Music"-
Studying poetry and music within Art Song is integral to helping artists find a deeper connection to our shared stories. In the spirit of bringing people together this portion of the Songfest experience allows participants the opportunity to engage in a deeper analysis of the poetry within the songs. As small groups, we will read and analyze poems in a round-table format, speak with poets about their process, talk with composer and poet about the collaboration and compositional discuss our own duties as artist/citizens, as well as explore creative formats that might help us to lift up the art of the song recital to a broader audience.
"From Page to Stage: An Actor's Process"
To give classical singers a process and tools which will help them approach text as an actor does, which makes an emotional connection to the text and communicate that to an audience in a real honest way.
Special festival projects and concert opportunities include:
1) Graham Johnson's "A Journey Through Schubert Lieder" 7 class series culminating in a final concert of SongFest participants chosen by Mr. Johnson. Program description can be found on our website.
2) The Bach Cantata Program: A week-long exploration of Bach cantatas coached by faculty composer John Harbison, director and Sanford Sylvan, culminating in a final performance with a Baroque ensemble.
3) Liza Stepanova will be curating and coaching three different concerts this summer.
"War's Embers" - a recital of works by composers during World War I
A special recital dedicated to various setting of Goethe
"Recovered Voices: Rediscovering Vocal Gems of the Early 20th Century" - in collaboration with the Ziering-Colburn Initiative for Recovered Voices at The Colburn School
4) 2019 Distinguished Composer Concert - Songs by JAKE HEGGIE
5) "¡España! from Iberia to Latin America" - a concert of Spanish song curated by Jennifer Ringo and Javier Arrebola
6) Celebration of American Composers: A recital of songs by contemporary American composers featuring this year's Sorel commission by Reena Esmail
7) The American Songbook Concert: A SongFest tradition of hits from The Great American Songbook arranged and played by faculty John Musto with SongFest student singers and fully staged and directed by Amy Burton
Fees
Tuition: $2,300
Housing & Meals: $2,200
Scholarships are available! Visit www.songfest.us for more information.
Named Scholarships
The Eva & Marc Stern Fellowships: Full Fellowships (tuition/room/meals) for 4 singers & 2 pianists - awarded to exceptional musicians
Craig Smith Bach Fellowship: full-tuition ($2,300)
Colburn Fellowships: full-tuition ($2,300) for 4 of the most advanced singers (funded by Colburn Foundation)
Schubert Fellows: 4 singers ($1,000 each) selected from YA and Studio Artist programs
Sorel Fellowship: Full Fellowship (tuition/room/meals) for a female singer or pianist
PARTIAL SCHOLARSHIPS
- based on merit and need
- please see required documents: http://www.songfest.us/scholarships/
Contact Information
SongFest 2019
6369 Euclid Road
Cincinnati, Ohio 45236
songfest@earthlink.net
Find us on Facebook!