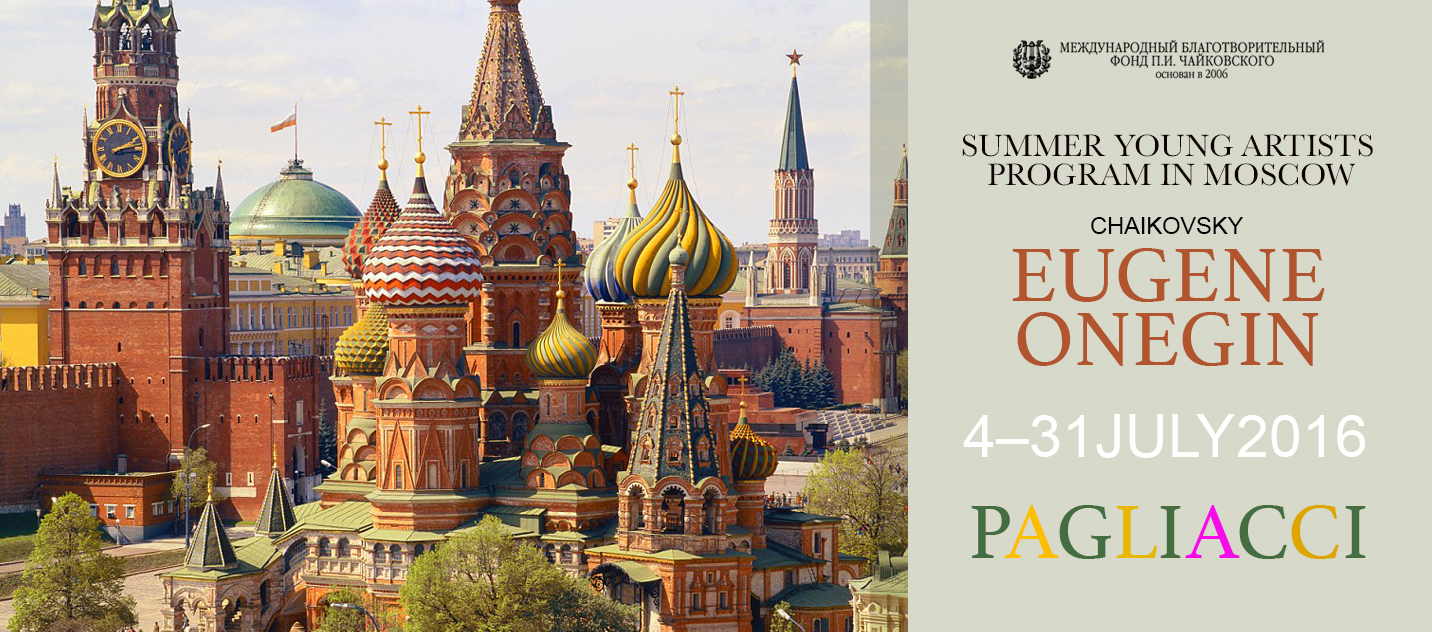 Russian Summer Opera Festival in Moscow offers all talented opera singers the opportunity to acquire a unique experience in the production of the great operas Eugene Onegin and Pagliacci. ONE Vacancy each for: Trikke, Gremin, Larina in "Eugene Onegin"; Peppe, Tonio, Canio in "Pagliacci"; the experience of a live performance with full orchestra in front of an experienced audience. Acquire professional skills working with the conductor and director, which you can't acquire from any educational institution. Plunge into the atmosphere of a professional theatre. Get valuable pieces of advice from agents and casting directors. Take a new step on your way to the big stage!

Please email us at newoperaworld@gmail.com. Some roles have a discount.
For more information: http://www.newoperaworld.com/#!blank-3/uaddu
The program for vocalists includes:
1. Preparation of performances for the staging of Tchaikovsky's Eugene Onegin. For a month, you will daily participate in the staging of the great Russian opera Eugene Onegin. The conductor, orchestra, coaches and vocal teachers will all participate. At the end of the intensive work, you will take part in a colourful premiere at one of the famous Moscow stages. Journalists, musicologists and music experts will all be invited.
2. Studying Russian chamber music with famous Russian romance performers (master classes). At the end of the study, there will be a solo performance at an evening gathering for the Russian romance (Tchaikovsky, Rachmaninov) at the Tchaikovsky State House-Museum in Klin city.
3. Working on vocal techniques with stars from the Bolshoi Theatre (private lessons).
4. Working on Russian pronunciation during performances of the Eugene Onegin opera and during romances (coaching, individually for participant).
5. Individual work with the director on acting skills based on Stanislavsky technique.
6. Auditions at agents from European and Russian theatres.
7. Participation in professional theatre rehearsals. The staging will involve stage designers, costume designers, makeup artists and light & sound artists. Therefore, participants will receive experience with all members of the professional theatre team
8. A master class titled "How to prove yourself to an agent to get a lucrative contract". Agents and casting directors from the best Russian and European theatres are invited. You will be able to ask all your questions in person.
9. Auditions for European and Russian agents.
10. Excursion to historical places in Moscow. Visit to Chaliapin House Museum and Lemeshev House Museum. Excursion to the legendary Bolshoi Theatre and to the best sites in Moscow.
11. Gala concert. All participants will perform at the final gala concert at one of the Moscow venues.

Our team:

Conductors:
Gregory Buchalter – сonductor. Metropolitan Opera, Opera Fairbanks, Opera Las Vegas & Opera Camerata of Washington
Andrey Shlyachkov – сonductor. Moscow musical theatre "Helikon-Opera"
Francesco Massimi – сonductor. Coach from Opera Theatre Spoleto, Accademia Teatro Alla Scala.

Teachers:
Makvala Kasrashvili – Soprano. Assistant to Music Director & Chief Conductor, Bolshoi Theatre
Irina Dolzhenko – Mezzo–soprano, Bolshoi Theatre. Casting director, Krasnoyarsk Opera
Аlexey Bolshakov – Stage director, Tchaikovsky College of Music

Coaches:
Valeria Sokolova, Russian Academy of Theatre Arts, Moscow.
Sergey Semenov, Main Accompanist, Helikon Opera Theatre, Moscow

Agents and Master classes:
Robert Körner, Casting Director, Opera national de Lyon, France.
Oliver Kretschmer, agent from TACT management, Berlin
Olga Kapanina, Stage Director, agent from Mikhaylovski Theatre, St. Petersburg
Francesco Massimi, Coach from Opera Theatre Spoleto, Accademia Teatro alla Scala.