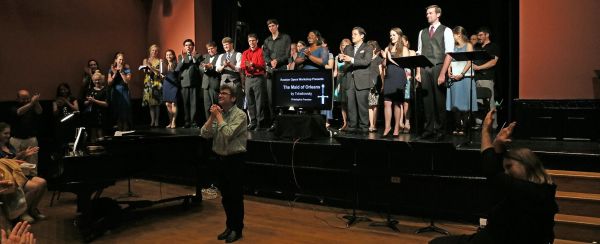 Russian Opera Workshop is a top-tier independent program in summer residence at the Academy of Vocal Arts (AVA) in Philadelphia.
No application fee. Apply now! http://bitly.com/1oIQaer
JUNE 1-25 - "The Demon" by Anton Rubinstein (Philadelphia premiere)
JULY 6-30 - "Iolanta" by Tchaikovsky
Message from Ghenady Meirson, Music Director & Founder
About THE DEMON
Anton Rubinstein was the founder of Saint Petersburg Conservatory and Tchaikovsky's composition teacher. The Demon was an important influence on a number of Russian operas. Vocal parts in Tchaikovsky's Eugene Onegin parallel the one's in The Demon. This work marks Russian Opera Workshop's third Philadelphia premiere of a Russian opera. This important and rarely performed work is sure to get much attention from the opera industry and press.
Recent video sample from AVA Russian Opera Duets concert on Dec 16, 2014
Marina Costa-Jackson (Tamara), Michael Adams (Demon) and Ghenady Meirson, Music Director & Pianist
View full screen in 1080p HD
About IOLANTA
Over the years, I have been a tireless promoter of this work, having prepared it three times with Curtis Opera Theatre and a fully staged production at the Academy of Vocal Arts. In July 2015 it will mark the second time we bring IOLANTA to Russian Opera Workshop. This is an important last opera by Tchaikovsky, which was commissioned as a double bill with The Nutcracker ballet. Opera singers will be pleased to know the IOLANTA will receive its premiere at the Metropolitan Opera with Anna Netrebko in the tile role. Make sure to catch it on MET Live in HD on February 14, 2015, 12:30 pm ET