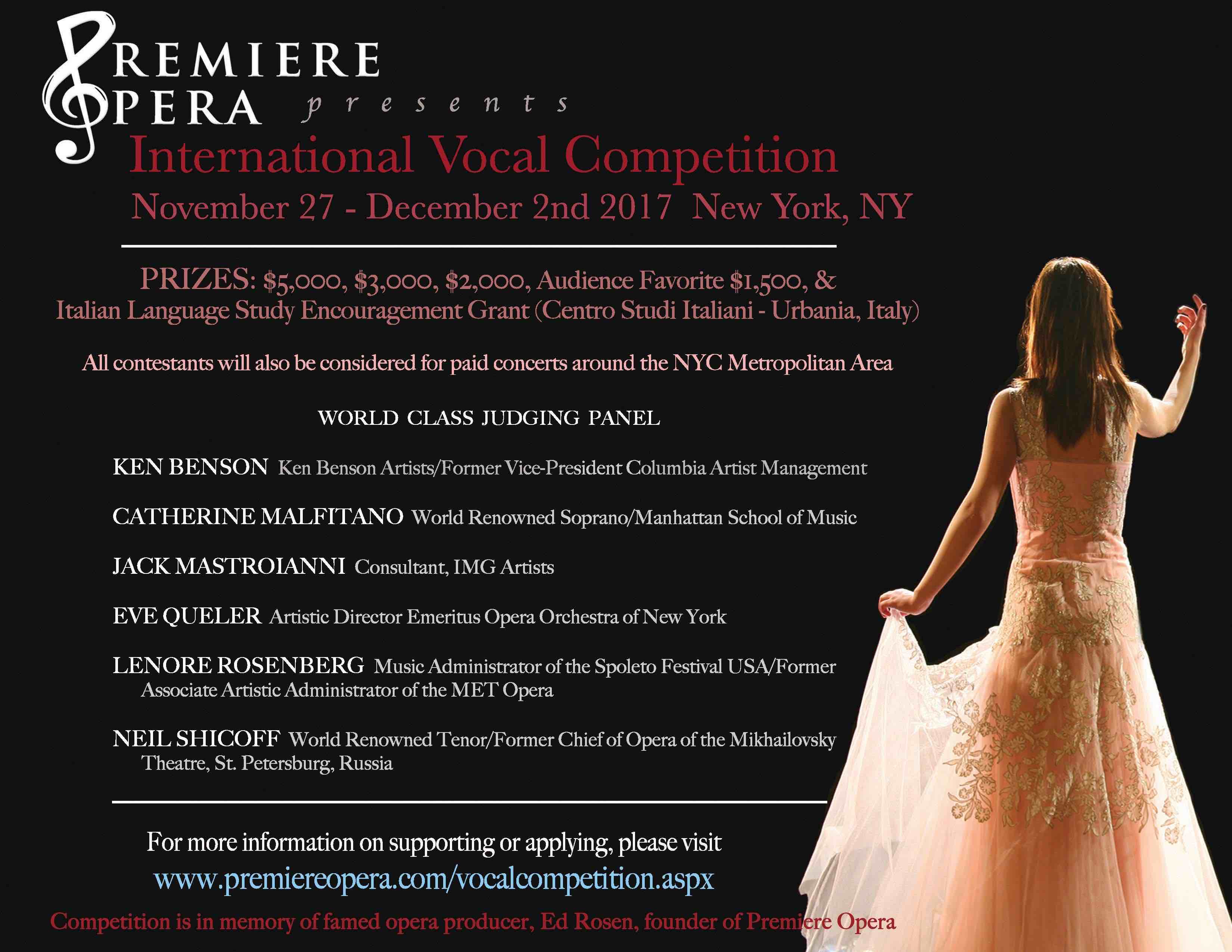 Don't miss your chance to be heard by the biggest names in the industry in what is one of the most esteemed judging and advisory panels ever assembled! The Premiere Opera International Vocal Competition is dedicated to discovering and honoring the most promising, up and coming opera singers in the world today. Our mission is to enhance the careers of our participants through both financial and ongoing advisory support as well honoring the memory of famed opera producer, Ed Rosen, our beloved founder of Premiere Opera; whose love, support and knowledge of great operatic singing is a legacy which we are dedicated to continuing.

The inaugural competition will distribute nearly $15K in prizes, as well as a full scholarship, all expense paid opportunity to study the Italian language for one month, at the prestigious Centro Studi Italiani in Urbania, Italy! Plus all contestants will receive consideration for numerous performance opportunities.

If you would like to apply, click here: https://www.yaptracker.com/applications/premiere-opera-2018
and for even more detailed info, click here: http://www.premiereopera.com/vocalcompetition.aspx
Early bird deadline is October 25; Final deadline is November 15th.

World Class Judging Panel:
KEN BENSON - Ken Benson Artists / Former Vice-President Columbia Artist Management
CATHERINE MALFITANO - World Renowned Soprano / Manhattan School Of Music
JACK MASTROIANNI - Consultant, IMG Artists
EVE QUELER - Artistic Director Emeritus Opera Orchestra of New York
LENORE ROSENBERG - Music Admin of the Spoleto Festival USA / Former Associate Artistic Administrator of
the MET Opera
NEIL SHICOFF - World Renowned Tenor / Former Chief of Opera of the Mikhailovsky Theatre, St. Petersburg,
Russia

Advisory Board:
DANIEL BIAGGI - General Director, Palm Beach Opera
LUIGI CAIOLA - Caiola Productions, Four-Time Tony Award Winner - Producer
STEPHEN DEMAIO - President, The Gerder Lissner Foundation
ALAN FISCHER - Tenor, Department Chair, Vocal Music, The Governor's School for the Arts
ALEX FLETCHER - Founder, Fletcher Artist Management
MATTHEW A. HORNER - Senior Vice President, IMG Artists
ADA MEI - Soprano, Board Member, Hawaii Opera Theatre
KATHY OLSEN - Founder, Encompass Arts
FRED ROSEN - Brother of Premiere Opera Founder, Ed Rosen
DEBORAH SURDI - Executive Director Teatro Nuovo & Queens Symphony Orchestra / Former, VP Sony
Masterworks & Executive Director Opera Orchestra of New York

Founders:
ERIC MARGIORE - Founder & International Operatic Tenor
ANTHONY CLEMENZA, Esq - Co-Founder & Business Operations/Legal

In Remembrance:
ED ROSEN - December 15th, 1940 - December 21, 2016, Founder, Premiere Opera