Within the last several weeks several members have contacted us about how payment information is displayed.
For many singers, one of the most important factors in evaluating an opportunity is whether it includes payment. Currently this information is displayed on the main opportunity page but it takes an extra step to navigate to that section. To help speed up this process, we've made a couple of small changes.
Firstly, if we have confirmed the payment status (either that payment is provided or payment is not provided) then we display this information on the list view.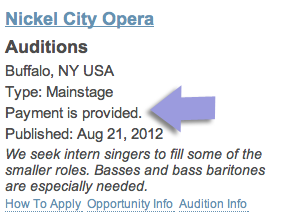 Secondly, we've added a new filter to the advanced search that allows you to filter out opportunities that we have confirmed do not pay. To filter out opportunities, click on the Advanced Search link from the Opportunities page.

Next, select Yes from the Exclude non-paying opportunities choice.

It's important to note that we don't always know if an opportunity pays or not. We do our best to include this information but if we are unable to confirm either way with the company, we leave the field marked unknown.
Finally, we'd like to remind you that you can use our filtering feature to automatically filter out opportunities that we have confirmed do not pay. To do this, please see our related FAQ on how to filter opportunities.