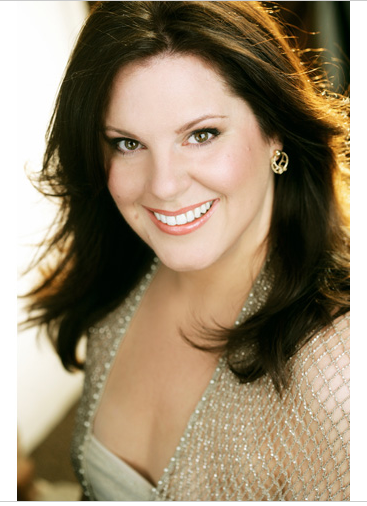 Photo by Kristin Hoebermann
Looking for a terrific training opportunity for the summer of 2013? Young Dramatic Soprano Julie Makerov shared her thoughts with us about her experience in the year 2000 at the highly acclaimed training program OperaWorks, and how lessons learned during that summer session have stayed with her throughout her career. Ms. Makerov has sung at many venerable houses, including Lyric Opera of Chicago, Canadian Opera Company and the Mozarteum Orchestra, among others; she was also a National Grand Finalist in the 2003 Metropolitan Opera National Council Auditions and is a winner of the Licia Albanese-Puccini Foundation, Eleanor Lieber and Loren L. Zachary Awards.
---

When did you attend the OperaWorks Program?
Summer 2000.
What inspired you to apply?
I had heard about the program and had people recommend it to me as part of my development as an opera singer. I knew that it would impart the type of education that universities don't provide in regards to performance techniques, and wanted to take advantage of all that I could in my early development.
What prior relevant education/training did you have before attending?
I had just finished my undergraduate degree in vocal performance and had had private voice lessons from the age of 18.
Please share your experience of the program.
My experience at OperaWorks was truly unique and not something I had ever experienced anywhere else before. Through this program and founder Ann Baltz's extensive background both as performer and educator I was able to take advantage of her techniques which taught me to be a confident, original and free-flowing artist. These practices rid me of body tension, taught me how to focus my mind and energy and lead me in the path of becoming a consummate singing actor.
You have sung or are singing this season at many venerable houses, including Lyric Opera of Chicago, Canadian Opera Company, the Mozarteum Orchestra, among others. For those who have concerns about how attending a training program will be perceived by hiring professionals in the future, what is your viewpoint?
Nearly every working professional has taken part in not just one but many training programs. They are a necessary part of the development of any opera singer. And just as is the case with our formal education, opera companies are not concerned with where one has studied, but rather if the final excellent product is presented as a culmination of that education and training. True, one can establish important business relationships through training programs but ultimately as they say, "The proof is in the pudding".
It is sometimes said that summer programs can be a difficult training ground for those with larger voices; how did this program meet the particular needs of your instrument?
This is a true statement to be sure. OperaWorks however is not a "traditional" training program and therefore concerns itself not with the needs of the company and filling positions such as chorus and covers, but with the development of the performing artist. For this reason the size, type, color and functionality of the voice does not have an impact on the progress of the singers development during the program. Rather, there is a total commitment on the part of the entire OperaWorks educational staff to acknowledge each person's unique gift and help them in their very individual journey to become great artists.
What would you say to others looking to get the most out of a program like OperaWorks?
Approach this program with an open mind and be prepared for a wonderful learning and growing experience! While musical and stylistic integrity are always developed and acknowledged there will be many additional techniques which will serve to compliment those disciplines. You should expect and look forward to making important strides as a performing artist.
Every time I prepare, rehearse and perform I am implementing techniques which I learned at OperaWorks. Lessons in what to do with unfocused energy, unfocused concentration, body tension, negative inner monologue and all the other things singers struggle with have served me steadily in my 13 years of singing opera.
What else have you got coming up?
I will be working with Los Angeles Opera in Wagner's "The Flying Dutchman". In Spring I will be singing with the American Symphony Orchestra in New York as Sieglinde in a concert version of the first act of "Die Walküre". In Summer I will be singing with Des Moines Metro Opera as Chrysotemis in Strauss's opera "Elektra" and in the fall I head to Vancouver to sing the title role in "Tosca" with Vancouver Opera.
To what do you attribute your success?
God, having a supportive husband, family and friends, talent and plain hard work.
Any additional advice to others preparing for their upcoming summer programs?
Be a sponge and soak up all the experience and knowledge you can. Have confidence that you are truly unique and have something very special to contribute. It is not worth comparing yourself to others, only to recognize each person's gift, work hard, be thankful and enjoy the process of creating art!!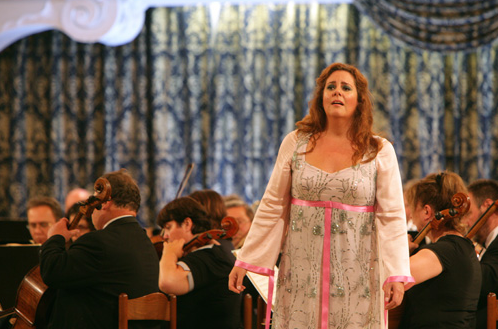 Title role in Rusalka with the Český Krumlov Festival, 2009, photo by Petr Hasal.
---
The Toronto Star declares "Julie Makerov as Senta…was every inch the ringing life force Wagner intended." As winner of the 2010 Dora Award, Canada's most prestigious live theater honor, Ms. Makerov was recognized for her compelling portrayal of Senta in Wagner's Der Fliegende Holländer and continues to captivate audiences internationally. This gifted young dramatic soprano's voice has been described as "Gloriously commanding" (La Scena Musicale), "Sumptuous" (ArtsSF.com), and "soaring" (The Oakland Tribune). The New York Times proclaims "Julie Makerov's plush soprano voice and vulnerability were ideal for the goddess Freia."
In the 2012-2013 season, Ms. Makerov will make her company and role debut as Gertrude in "Hänsel und Gretel" with Lyric Opera of Chicago, and joins Los Angeles Opera for their production of "Der Fliegende Holländer". Recent performances include the title role in "Tosca" for the Canadian Opera Company, and Queen of Hearts in the North American premiere of Unsuk Chin's "Alice in Wonderland" for Opera Theatre of Saint Louis. More information about Ms. Makerov can be found on her website, www.juliemakerov.com, or through Columbia Artists Management International.
---
Like this discussion? Please share your thoughts on our Facebook page or contact us.