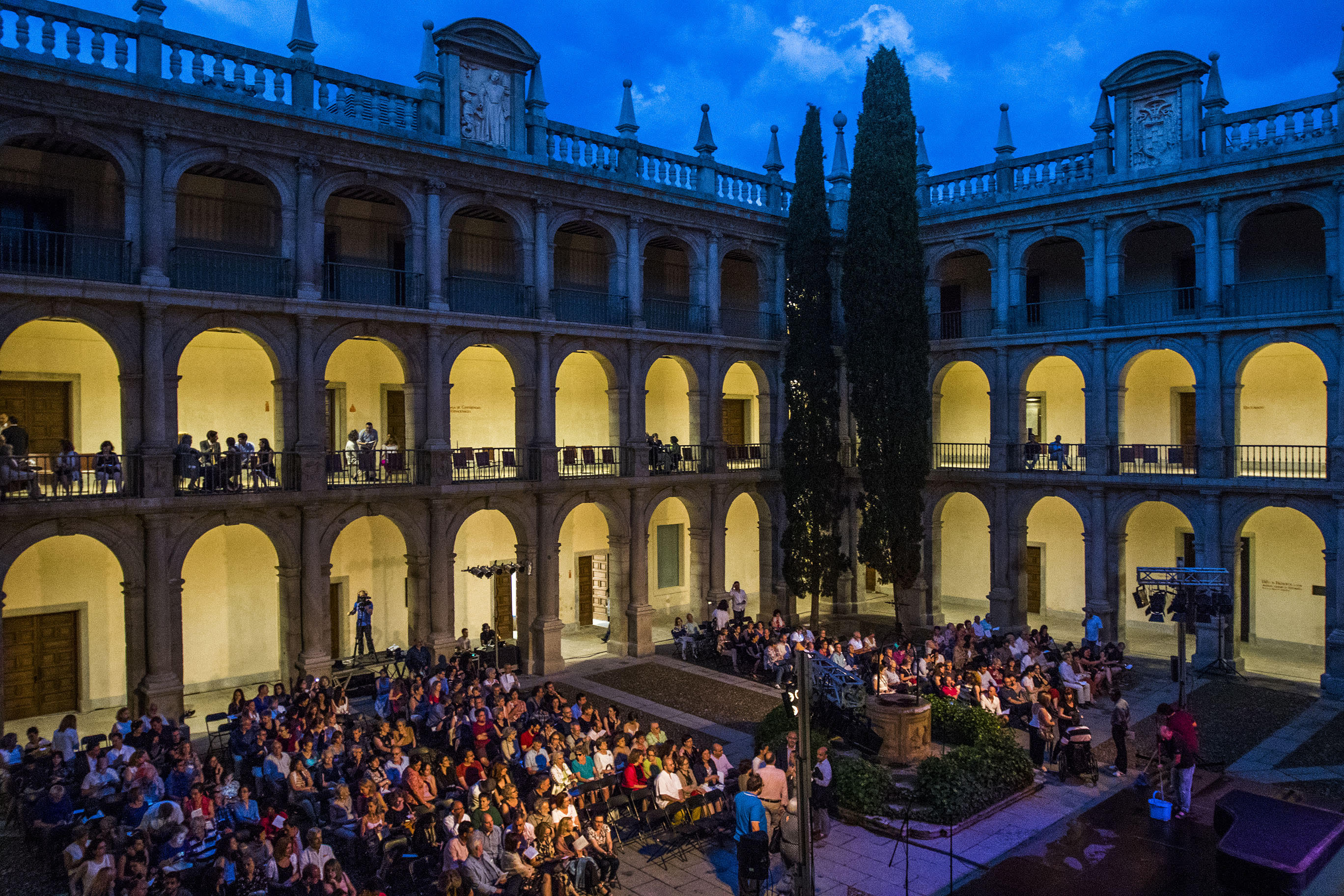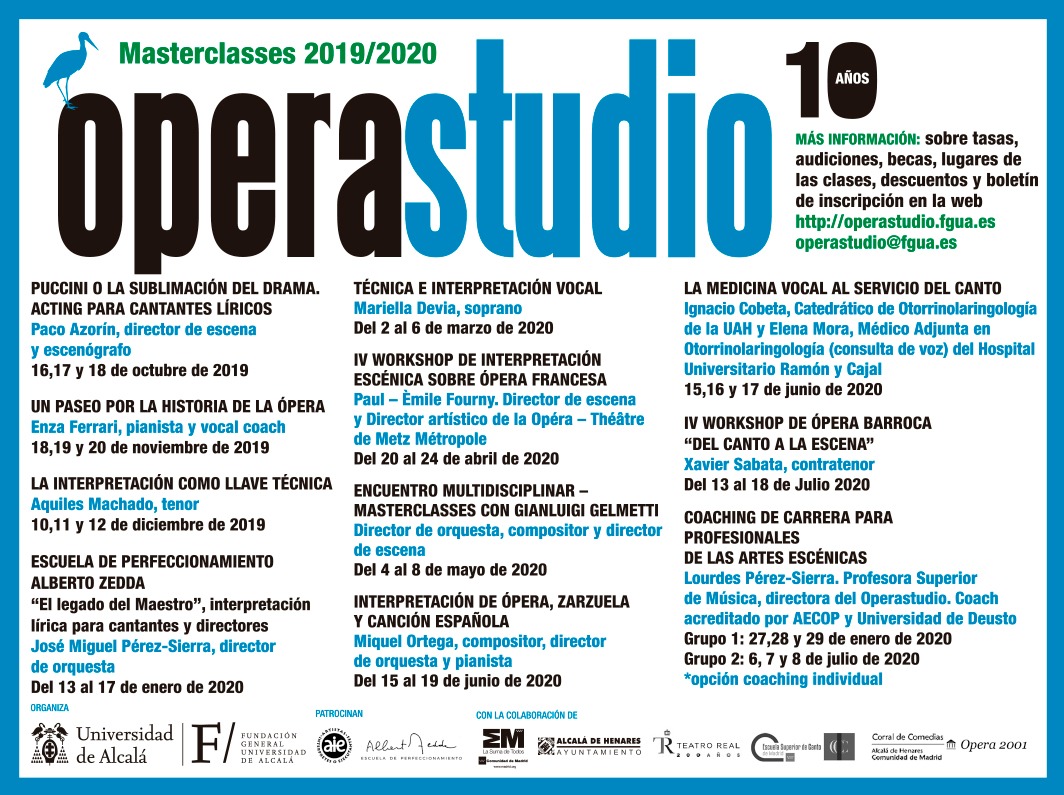 The Universidad de Alcalá, declared World Heritage by the Unesco in 1998, it is one of the oldest and more prestigious of Europe, located in Madrid, Spain, about 30.000 students made their university studies in it. In parallel of this, The Universidad de Alcalá also develop an extensive cultural and artistic programme.

It's Fundación General, decided in 2010 to start up this new project, OPERASTUDIO, pioneer in Spain, linked in the best lyric professionals with the academic tradition of our University. The Project was born as renovation of the Workshop of stage performance for opera singers, directed by Giancarlo del Monaco, (2005 – 2009), it gave us a lot of experience about the training needs of this sector.

More than 400 singers, in many cases postgraduates, have participated in the ten promotions of Operastudio, evaluating as very satisfactory their experience, and many of them have had the opportunity of put into practice their knowledge in paid concerts open to the public, where they have showed their high potential.

The new offer has achieved the high specialization of young singers pushing their professional careers, many of them have achieved success in the most important stages in the world.

Operastudio is supported by all the management team of Fundación General (Universidad de Alcalá) and it is leaded by Lourdes Pérez-Sierra, pianist specialized in performing arts management and founder of this project.

In its nine programmes have participated between others Masters of international prestigious as the conductor Gianluigi Gelmetti, The sopranos Mariella Devia and Isabel Rey, the mezzo Teresa Berganza, the conductors Eduardo López Banzo and Alberto Zedda (the most worldwide expert in Rossini), the pianists Edelmiro Arnaltes and Juan Antonio Álvarez Parejo (partners of Alfredo Kraus and Teresa Berganza respectively), the stage directors Ignacio García (National Prize), Jochen Schonleber (Rossini Wildbad Festival director) and Paul Emile Fourny (Artistic Director of Metz Metropole Opera –Theatre), the prestigious singer teacher Ana Luisa Chova, the tenor Aquiles Machado and the countertenors Carlos Mena and Xavier Sabata. Also we have had the opportunity to learn about artistic agents as Miguel Lerín, Alfonso Leoz, Carlos Marén and Marc Mazy between others. Operastudio offers also career coaching and pathophysiology services for all the students and professionals. All the participants are included in an active job board where could participate in Lyric concerts and cycles as Lírica en el Corral. (corraldealcala.com)

The development of the Project we have counted with the sponsorship of AIE and the collaboration of the institutions: Comunidad de Madrid, Ayuntamiento de Alcalá de Henares, Fundación SGAE, Opera 2001 Company, Corral de Comedias de Alcalá de Henares, Escuela Superior de Canto de Madrid, Teatro Real and Cristina Vázquez Zedda who has sponsored the creation of Escuela de Perfeccionamiento Alberto Zedda.

PACO AZORÍN – Puccini or the sublimation of drama., Acting for opera singers– 16, 17 and 18 October 19 ENZA FERRARI - A walk through the history of Opera. Vocal coaching for opera singers - 18,19 and 20 November 19 AQUILES MACHADO – The performance as technical key. 10, 11 and 12 December 19 ESCUELA DE PERFECCIONAMIENTO ALBERTO ZEDDA. JOSÉ MIGUEL PÉREZ –SIERRA, – The legacy of Maestro Zedda, vocal performance for singers and conductors. – From 13 to 17 January 20 Audition 20 December MARIELLA DEVIA– Technique and vocal performance – From 2 to 6 March 20. PAUL ÈMILE FOURNY– IV Stage Performance Workshop about French Operas – From 20 to 24 April 20 GIANLUIGI GELMETTI– Multidisciplinar encounter– masterclasses – From 4 to 8 May 20 MIQUEL ORTEGA– Vocal performance of Spanish Opera and Zarzuela – From 15 to 19 June 20 IGNACIO COBETA– Vocal Pathophysiology – 15, 16 and 17 June 20 XAVIER SABATA– IV Baroque Opera Workshop– From 13 to 18 July 20. LOURDES PÉREZ – SIERRA, Operastudio director and coach accredited by AECOP – Carreer coaching – Group 1: 27, 28, 29 January 20. Group 2: 6, 7, 8 July 20.