New Feature: Downloading expenses into Excel
Our least favorite time of the year is quickly approaching: Tax time!
Several years ago, a number of singers wrote to us to request a new feature: the ability to track expenses directly through the site. We agreed that keeping track of monetary details alongside all other application and audition related-information would help keep our members organized, so we added the option.
We have now added another oft-requested feature: the ability to download expenses into Excel. We are pleased to offer members a way to download in Excel or CSV format (CSV is for those without access to Microsoft's spreadsheet program).
To download your expenses, simply visit the expenses page and click one of the download links on the right hand side of the page.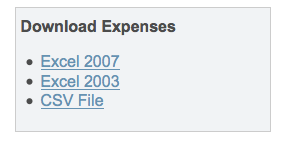 Have another feature you feel will be a great addition to our service? Contact us to share your thoughts.