Michigan Opera Theatre Studio 2019-20: Deadline 10/19!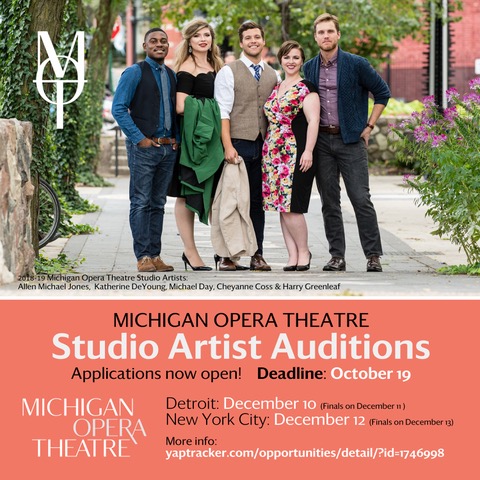 Apply Now for Michigan Opera Theatre Studio Artist Program
Application Deadline - October 19

Auditions:
DETROIT: Dec 10 (Finals Dec 11)
NEW YORK: Dec 12 (Finals Dec 13)

Among the opportunities offered by the program are:

• Roles and covers in main stage productions
• At least one production per season created specifically for the Studio Program
• A variety of other performance opportunities.
• Frequent individual vocal and repertoire coachings
• Master classes with guest artists
• Training in language, diction, stagecraft, and other areas of artistic development
• Opportunities to audition for visiting managers and administrators
• Support for career development activities such as voice lessons and auditions
• Artists are salaried and receive reimbursement for relocation.