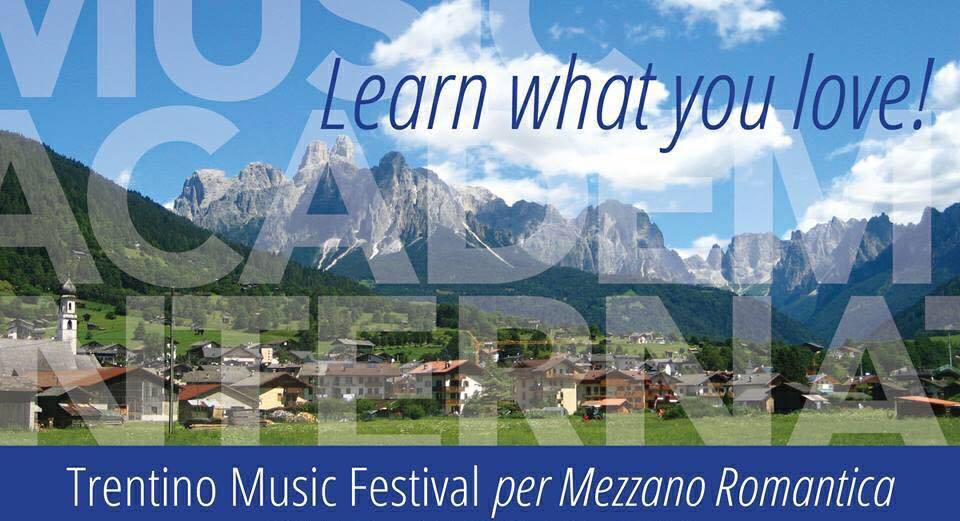 Music Academy International is the premiere YAP in Europe. Located near Venice, Italy in the Dolomiti mountains, the focus of the program is on professional development and 'training through performance'. Young Artists perform leading and supporting roles in main stage operas with world-class stage directors, conductors, and guest artists.
The 2018 festival season includes: DARK SISTERS (European Premiere), SUOR ANGELICA, L'ENFANT ET LES SORTILEGE, HÄNSEL UND GRETEL, & ALCINA. The quality of the MAI faculty is unmatched by any YAP and include professionals from the Metropolitan Opera, Paris Opera, English National Opera, Amsterdam Opera, Juilliard, NYU and MSM. Training includes: Lessons, Coaching, Master Classes, Crossover, Artist Management Auditions. Excursions include Venice, Arena di Verona, and Alpine Adventures.
LEARN WHAT YOU LOVE IN ITALY!!!

MAI Faculty Artists Include:
Mitchell Piper, General & Artistic Director - Piper Anselmi Artists Management
J. David Jackson, Music Director - Metropolitan Opera
Christopher Larkin, Conductor - Houston Grand Opera
Neal Goren, Conductor - Gotham Chamber Opera
Tim Ribchester, Conductor - Academy Vocal Arts
David Gately, Stage Director - Washington National Opera
Ophelie Wolf, Stage Director - Dallas Opera, Juilliard School
Patrizia di Paolo, Stage Director - Teatro La Fenice
Peter Nilsson, Vocal Coach - Dutch National Opera
Jane Robinson, Vocal Coach - English National Opera
Caren Levine, Vocal Coach - Metropolitan Opera
Lachlen Glen, Vocal Coach - Opera Theatre of Saint Louis
Jeanne Michèle Charbonnet, Voice Faculty - Paris Opera
Harolyn Blackwell, Voice Faculty - Metropolitan Opera
Christopher Magiera, Voice Faculty - DePaul School of Music
Neil Rosenshein, Voice Faculty - Metropolitan Opera
Carol Ann Manzi, Voice Faculty - SBCC, Connecticut Opera
Marishka Wierzbicki, Crossover - Liz Caplan Vocal Studio
Robin Blauers, Stage Director - The Hartt School, Connecticut Opera
Brian Wagorn, Vocal Coach - Metropolitan Opera
David Blackburn, Artist Management - IMG Artists, NYIOP
Training & Performances Include:
• Staged Opera with Orchestra
• Opera Gala Performances
• Lieder & Chanson Recitals
• Classical & Crossover Master Classes
• Voice Lessons and Vocal Coaching
• Advanced Character Development
• Diction & Language Classes
• Aria Coaching & Dramatic Interpretation
• Artist Management Auditions

Young Artists enjoy weekend excursions to such historic cities as Venice, Salzburg, Verona, Florence and Lake Garda.
Testimonials:
"Oooookay, emotional Facebook post here we go! The last month in the beautiful village of Mezzano with my wonderful colleagues and mentors at MAI has been greater than I could have ever imagined. From the friends gained to the work done to the beautiful landscape in which it all took place, I have experienced more beauty than I could ever put in to words." ….. Sarah (2016)

"I learned so much from your incredible staff of coaches and directors, and I am very excited for the next chapter of my vocal development. Thank you also for your insights in the master classes, and your kind words of encouragement. I hope our paths will cross again soon!!" ….. Brian (2016)

"I cannot begin to thank you enough for including me in this journey. It was truly the trip of a lifetime for me and while I am sad that it is over, I take with me all of the work, lessons and memories to help my artistic career flourish. I felt challenged, respected and inspired every step of the way. Yourself, and your staff were an absolute dream team of advisors and I could not have asked for a better experience." ….. Emily

"Thank you so much for such a wonderful experience! I'm so sad it's already over." ….. Kristi (2016).

LEARN WHAT YOU LOVE IN ITALY AND JOIN US THIS SUMMER FOR AN INCREDIBLE EXPERIENCE!!!
See more at www.MusicAcademyInternational.org.