Cuban-American mezzo-soprano and current Operastudio Vlaanderen member Yvette Loynaz shares great information about the audition, training and career opportunities offered in the European opera studio system. I had the pleasure of singing with Yvette for a number of years at Manhattan School of Music, and in addition to having a beautifully warm, rich, flexible instrument, she is an incredibly compelling performer; she's also just about the most down-to-earth person you'll ever meet. Thanks very much, Yvette, for your terrific insight, and toi, toi, toi on all your future endeavors (including your new company, Bang-up! Opera). Operastudio Vlaanderen (the Flanders Operastudio) has listed their auditions with YAP Tracker since 2007; their auditions are typically in the Spring.

---
Please share a little about your background.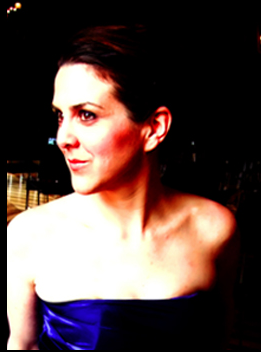 Hello YAPTRACKER's of the world! It's nice to meet you all in this lovely format. About me: I started out my singing in Miami, FL, where I was born and raised. It's a great city—not quite 'CSI Miami' and not quite life at the beach, but something in between—but at the time there wasn't much there for the young aspiring opera singer. So, after starting my studies at New World School of the Arts College in Downtown Miami and a few seasons with the Florida Grand Opera Chorus, I took the leap to Manhattan to make it big!... OK, so that part is still coming, but I'm working fast and furious on it, trust me. Stay tuned for my follow-up YAPTRACKER interview with all the juicy details! J… Anyhow, I had a great time finishing up my undergraduate studies (BM, 2003) at Manhattan School of Music (MSM) in New York City and later on making my way onto the staff, ultimately management staff, and faculty of MSM's Precollege Division. Soon after graduating, I joined the Glimmerglass Opera Young American Artist Program both for their spring tour and summer season (2004) where I got to work with incredibly talented artists and renowned directors, like Christopher Alden—an experience I still count among the highlights of my career! Then, onto Caramoor International Music Festival for two fantastically fun-packed seasons to work with some of the best musicians around, including one of my greatest champions and mentors, Maestro Will Crutchfield. Fast forward a few years and relocations later, I was accepted to the Flanders Operastudio (Operastudio Vlaanderen) 2011-2012 season, and here I am, writing to you from a beautiful and charming city called Ghent in Belgium.

What inspired you to apply to the Flanders Operastudio?
It's kind of a long story and one I'll dare to share the highlights version of with you now in the hopes of inspiring a few fellow YAPTRACKERs to take whatever 'life's dream' leap they've been holding off taking.

In December 2009, in an economy where there were more people than jobs to be had, I walked away from a full-time job in Arts Administration, a promotion, and a secure track to a stable and successful career anyone would've been proud of having, for one reason—to pursue the one thing that's always made me happy no matter what, and the only thing I ever knew for sure I wanted to do with my life, singing. It hasn't been easy and there have been many happy-sad-angry-joyful tears, highway and air miles, boxes and suitcases, zero-balance bank statements, and a truckload of sacrifices along the way. But, there have also been so many wonderful people, experiences, opportunities, and life-changing moments, ones I would've never known had I not left NYC that blizzard-filled day in December 2009, experiences like the one I had this year with the Flanders Operastudio, that have made it all worthwhile.

Had you worked in Europe before applying for this program?
I had one small engagement singing as a soloist with a choir back in 2002 in Wolhusen, Switzerland, but beyond that, not really.

Please describe what the audition process was like.
This audition process was quick and direct. No waiting around for a rejection or acceptance letter after months of deliberation. I auditioned in Ghent, a beautiful, small, and lively college town in the Flemish part of Belgium. This was a rather late audition in the season (which I found thanks to yaptracker.com!). Flanders Operastudio auditions are generally held in April each year. From my audition experience, I can say they really try to get to know you as a person as well as what you can do as a singer. Sometimes they conduct interviews for the finalists, other times not. Again, it seems like another effort to get to know the singer that comes with the voice. After you sing, you wait for the results, which are read in front of all the singers that auditioned that day. The Director, Ronny Lauwers, and a few others from the audition panel are there to offer feedback to the singers who are interested in receiving it. You know the results right away, good or bad. I love this part of auditioning in Europe. Europeans don't seem to get caught up with sparing the singer's ego. In my opinion, singers need honest feedback to grow, to become better artists, and if it's immediate, even better.

While I didn't know much about the Flanders Operastudio before auditioning, I was hooked by the artistic curiosity and spirit of the teaching staff. Acceptance to the Operastudio was the beginning of figuring out how I would finance the year to come to be able to attend. It's an educational opera studio and they offer a lot you don't pay for, but there is a fee and housing and living costs you have to cover, and the schedule is so packed during the academic year it doesn't leave much time to work (although it's possible, if you get your work permission sorted out, that is). It's worth pointing out that you don't spend anywhere near the kind of money you would spend if you had to pay for every coaching and lesson you get during the year. And for me, for where I was coming from in my career (all the gaps due to having a separate career) and for what I was looking for (a foot in the door), it was perfect. I had to make it work and, thanks to a lot of support from family and friends, I did. And, I'm very glad I did!

How did auditioning for a European program differ from a standard US YAP audition?

The biggest difference is the immediate information you get, both in results of the audition and feedback from the audition panel. They tell you what they think about your singing, the way you audition, your personality, and the overall impression you give. Right away, there's a dialogue created between the singer and the auditioner, which I think is incredibly valuable. You can take it or leave it, of course. However, it's important to be honest with yourself about your singing, and hearing feedback is just part of staying honest. In the States, you live in your own little bubble (whether it's in a music program or on your own) with the feedback of people you pay to teach you or coach you, and you hardly ever get a direct, honest, unbiased opinion in the moment, let alone any opinion at all, good or bad, from people in the position of hiring. There is also no audition or application fee for Flanders Operastudio. That's a nice change of pace from the hundreds of dollars you put into just applying to programs in the States. Of course, I think the YAP programs in the States are incredibly important and of extremely high-level when it comes to what they offer the singer and what they produce. I'm lucky to have been a part of two. And, if you can snag one, go for it! I only wish there were more opportunities for the singer who doesn't get the job to receive feedback from these programs so they can improve and give better auditions as they go.

Please describe the program itself.
The program is comprised of an intense production schedule over a 10-month academic calendar. It's a post-graduate program that's connected to the University of Ghent, so there are some nice benefits from that connection. Your progress and performances are well-documented leaving you with a ton of great media at the end of the year. You really hit the ground running here and it's all about performing. Some years the projects revolve around a composer, other years they put on full productions. It runs like a small professional company with an educational component, much like the young artist programs in the States in that respect. The assumption is you're a classically trained musician capable of learning and executing your assignments. Singers are given a schedule, expected to learn their assignments and in return you get a full schedule of vocal coachings, language coachings, vocal interpretation with opera directors and conductors, and vocal consultations intermingled with performances, auditions, and outside professional engagements. They treat you as professionals and for that reason it's really a program for someone who is looking for a bridge into a professional career or a foot into the European scene, and not a place to figure out your technique. There's also a connection to the Vlaamse Opera (although they are separate entities), one I hope will only strengthen in the years to come. The contacts and professionals you work with are first-class, like Sir Thomas Allen, Ann Murray, Graham Johnson, conductors of the Vlaamse Opera, and more. You have amazing resident coaches and directors that stay with you all year. All the courses, rehearsals, and coachings are conducted in English. By the way, while Dutch is the official language of Ghent, you really won't have any problems getting around with English, as most people speak English here.

At the Operastudio, you are given artistic freedom to suggest repertoire, create projects, and to bring your artistic opinion to the table on several occasions. Becoming an independent, self-functioning, marketable singer is the goal. There are about 10 singers and 1-2 repetiteurs who make up the studio each year. It's a small group considering how much gets done. That can sometimes, depending on the group, be a good or bad thing. It has a strong education component with feedbacks, evaluations, and assignments that are periodically presented throughout the year to track each singer's progress. It's really a documentarian's dream and something I had a lot of fun participating in, even though they are still tweaking the process to fit the needs of the studio. The studio members come from all around the world. Typically, it seems to be a primarily European mix, but this year the countries of the members were more global and included Belgium, France, India, Italy, Japan, México, Scotland, Portugal, Thailand, and USA. The average age is late-20's. The singers and repetiteurs come from various educational backgrounds and experiences. At first, the differences in experience and education of each of the singers can be a bit disconcerting and a mystery to see how it'll all work out. But, when you realize that the Operastudio is designed to give each singer the license to make of his/her experience what s/he wants, take from it what s/he wants, and sing and create as s/he wants, all with the guidance of a great team of professionals who become your biggest fans, you start to open up to the brilliance of this place. And, if you are open and take advantage of what the Operastudio offers, you can have one of the best years of your career/life, exactly as I did. I treated this experience like a professional engagement, always having high expectations for myself and the work that I did. I think that was the key to the success of this year for me.

This Operastudio experience is what you make of it. You take what you want out of it, but you have to know what you want, ask for it, and be proactive in getting it. Nothing gets handed to you in this program, or career, so it's a great life lesson! The options are endless, the creative freedom is there for you to take it, you just have to come prepared to work hard and think outside the box. The rest takes care of itself.

Have you been auditioning for European opera companies while you've been in Belgium, and do you plan to stay once the program is complete?

Yes and yes. The Flanders Operastudio did a great job of connecting us with agents and Intendants (General Directors) of opera houses around Europe. Several are invited (and actually come) to our performances throughout the year and, as a result, invite singers from the studio to house auditions. It's a great place to make connections if you are conscious of the opportunities. Not to mention, separate auditions conducted throughout the year with Vlaamse Opera and other houses that come to the studio to see performances and audition singers. Because the performance schedule is so intense, it is difficult to get away for auditions, but even so the studio is very supportive in that respect and allows singers to travel to auditions and lessons whenever possible.

As for my future, I will be based in Belgium and auditioning in Europe full steam ahead in the coming year. I'm also taking on the role of Artistic Director of a small pop-up opera troupe I started up called Bang-up! Opera (www.facebook.com/bangupopera) that's really taking off here in Ghent!

For me, Belgium is a great location that's close to everywhere. You're literally about 2-hours away from London, Paris, Amsterdam, Dusseldorf… it doesn't get much more convenient than that. Plus, I've fallen in love this country, this city, and the people in it. While I am prepared to travel to follow my career wherever it may take me, if able to choose, I'd make this my home base without hesitation.

What has been the most challenging aspect of being a singer abroad?

My biggest challenge living abroad has been the language barrier. Particularly in Belgium, where in the span of a 3-hour drive, you can easily come across four languages, minimum. I'd say start studying now if you plan on coming. In Ghent, since just about everyone speaks English, it's not a major problem here. But, I'd say without a doubt, start learning German! That's the one you really have to start learning yesterday if you're interested in coming to Europe to sing opera. German houses, particularly small regional ones, require it. And, if you're starting a career, that's where you're most likely to start. Sign up for a course or buy some audio lessons today! I can't emphasize this enough. I spent my first 10-months in Europe in Stuttgart, Germany, and I felt my lack of German at the time really held me back. Even if you're the 'bee's knees' of opera singers, learn the language because in the end it can easily be a strike against you if you don't have a decent command of the language. Of course, big houses are different and can function in English, but it can't hurt to know the language of the country you're in. And Germany as a place to go and sing is a no-brainer just for the sheer number of houses they have alone. You'll be thankful you learned it before coming! Life will be that much easier.

What has been the most exciting or rewarding aspect of being a singer abroad?

The most exciting and rewarding parts of singing in Europe for me have been first, the music and performance opportunities I've been a part of. Then, the people I've had the privilege to share them with both on and off the stage. And, finally, simply being abroad is a dream come true for me. I definitely don't think it's for everyone, but if you enjoy experiencing different cultures, traveling, meeting people from all over the world, and adapting your life to the world around you, then I say go for it. If you can handle being away (and far) from family, don't mind traveling light, enjoy learning languages, and can stand lots of change, then pack up and get over here! It's been an unforgettable life-changing experience for me, and I'm so glad I took the leap!

What advice would you give to other singers interested in applying for the Flanders Operastudio?

DO IT! This studio was exactly what I needed to bridge the gap from the US to the European scene, and I highly recommend it to any singer (and pianist, for that matter, dreaming of becoming a repetiteur) out there looking for the same bridge. There aren't many programs quite like this one in Europe. I'd even venture to say there's nothing like it all. The Operastudio understands we're not just performers, but people too. With a small staff who invest everything they have in the students all year long and beyond, they manage to create a highly organized, professional environment, with an open-door policy, checking in with the singers, inviting them to speak their minds about whatever is going on both musically and personally, as much or as little as they like, offering honest feedback whenever possible. For a foreigner, it's pretty incredible to feel this kind of support when you're so far from home. The people and their commitment make this place great. I don't think there are too many Americans among their alumni, perhaps because of the financial commitment or simply because they don't know much about it, much like myself when I applied, but I'm so glad I found the yaptracker.com posting that day that ultimately brought my life and career to Belgium.

If you can find a sponsor to finance your fee and housing and living costs, it's really a great way to get to Europe. The studio also has a few lengthy breaks where singers have plenty of time to travel home/abroad and try to work, if that's something they're interested in doing. Where there's a will, there's a way! It's a supportive environment, you meet important opera professionals, make life-long friends, and if you're ready, there are so many opportunities for you to get your career started. It's really worth the effort of finding a way to get here. You won't regret it.
---
Like this discussion? Please share your thoughts on our Facebook page or contact us.