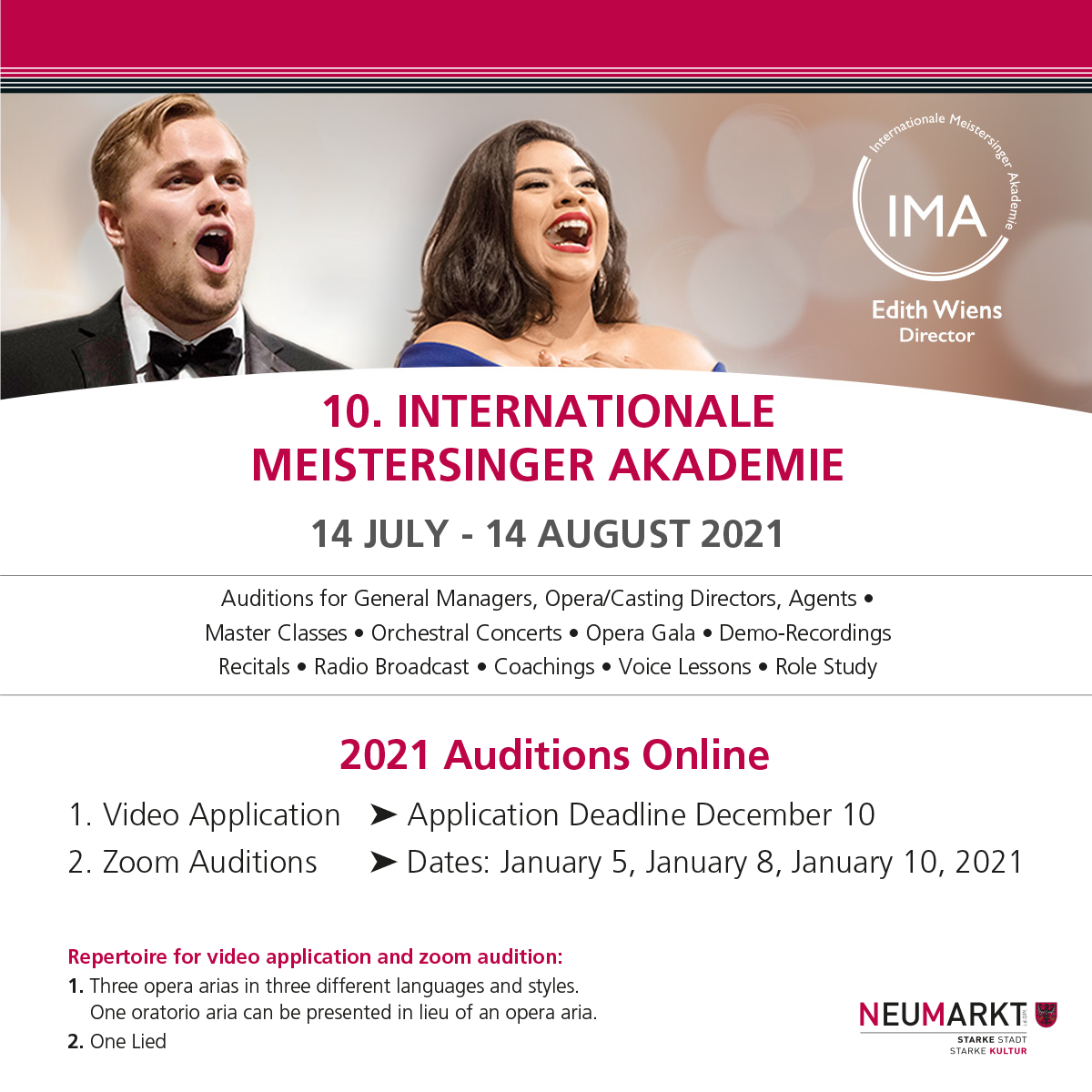 If you are a young singer looking for a great opportunity to actively further your career, build up a great professional network by auditioning for 30 leading opera directors, casting directors and agents (receiving personal feed-back from all of them!); participate in master classes with world renown teachers, get some more experience in audition situations, in concert with a symphony orchestra, in recital and even in Cabaret!
-all closely monitored and tailored to your wishes and needs by our teachers, who will be providing daily voice lessons and coachings, record professional DEMO recordings with you and discuss career strategies and much more..
- THEN you should absolutely apply to audition for the Internationale Meistersinger Akademie (IMA).
Our faculty line-up for 2021 includes Edith Wiens, Brigitte Fassbaender, Matthew Horner (IMG international), Malcolm Martineau, Pål Moe (Casting Director in Prague and Glyndebourne), Craig Terry (head of Ryan Centre, Chicago Lyric Opera), and Tobias Truniger (head of Bayerische Staatsoper Munich, Studio), among others.
IMA is a FULL SCHOLARSHIP programme, hosted by the City of Neumarkt i.d.OPf. in grateful conjunction with many sponsors.
IMA 2021 will take place from July 14 to August 14 in Neumarkt i.d.OPf., Germany.
2021 AUDITIONS ONLINE
1. Application for Zoom Auditions or by pre-recorded Video-ONLY - Deadline: December 10, 2020
Pre-screening Repertoire before Zoom Audition: 2 arias in different languages and styles, and one Lied.
See Video-ONLY requirements below.
2. Zoom Auditions - Dates: Jan 5, Jan 8, Jan 10, 2021
Zoom Audition and Video-ONLY Application repertoire: 3 arias in three different languages and styles, and one Lied. (Zoom audition-rep. may include pre-screening repertoire)
You can get your application form here: http://www.yaptracker.com/applications/internationale-meistersinger-akademie-2021
For more information on our programme and repertoire-requirements, please visit https://meistersingerakademie.com/
If you have any question, please email ima@meistersingerakademie.com.