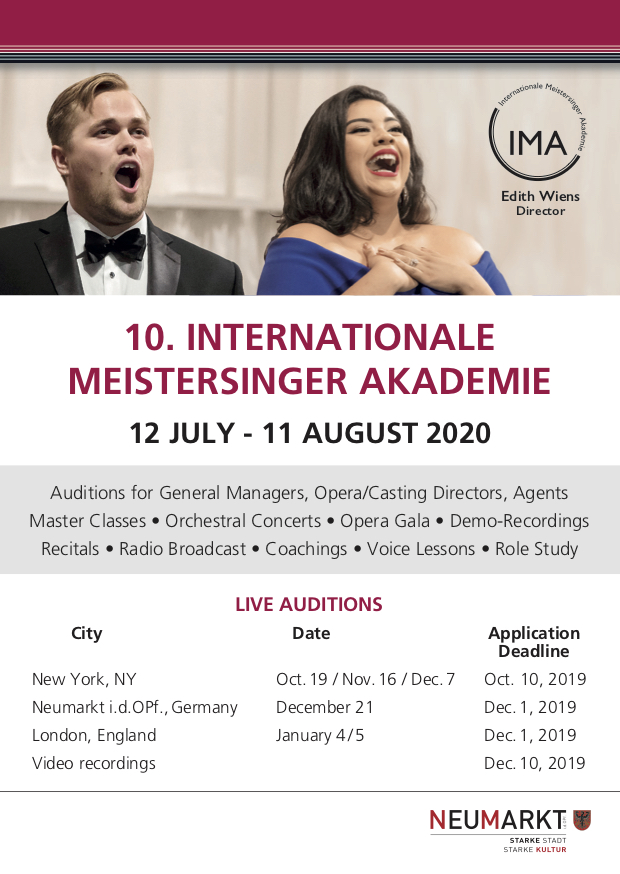 The International Meistersinger Akademie (IMA) offers emerging artists an exceptional environment of excellence in the study of Opera, Oratorio and Lied/Mélodie. This is a FULL SCHOLARSHIP summer program in Neumarkt i.d.OPf Germany with an incredible faculty line up, including director Prof. Dr. Edith Wiens, KS Brigitte Fassbaender, KS Anna Tomowa-Sintow, Malcolm Martineau, Matthew Horner (IMG), Craig Terry (Lyric Opera of Chicago), Pal Moe (Casting Director Glyndebourne) among others.

On top of the fully fledged training program with orchestra concerts, recitals, demo recordings, coachings and more abound, IMA is made UNIQUE by the networking and career-opportunities it provides: every year IMA invites 30 of the most influential opera directors, casting directors, festival managers, agents and promoters to listen to auditions organised by us and give feedback to every participant one-on-one.

Through the IMA, many of our alumni have found prestigious management (e.g. Askonas Holt, Intermusica London, HarrisonParrott, IMG, Orlob Berlin). Opera companies who have hired our singers, either in Fest-Contracts or as guests, include Glyndebourne, Covent Garden, Frankfurt, Munich, Hannover, Hamburg, Aix-en-Provence, Lille, Leipzig, Dresden, Geneva, Palermo, Basel, Klagenfurt, Zurich, as well as the Metropolitan Opera in New York. Engagements in opera studio programs include Munich,Frankfurt, Dresden, Basel and Zurich.

Read more about the IMA on our website https://meistersingerakademie.com/ and check out our Social Media and YouTube channel!

Don't miss this incredible training and career-changing opportunity!
We are looking forward to hearing from you!

Auditions to be held in New York, London and Neumarkt i.d.OPf.. Deadline: December 10, 2019.