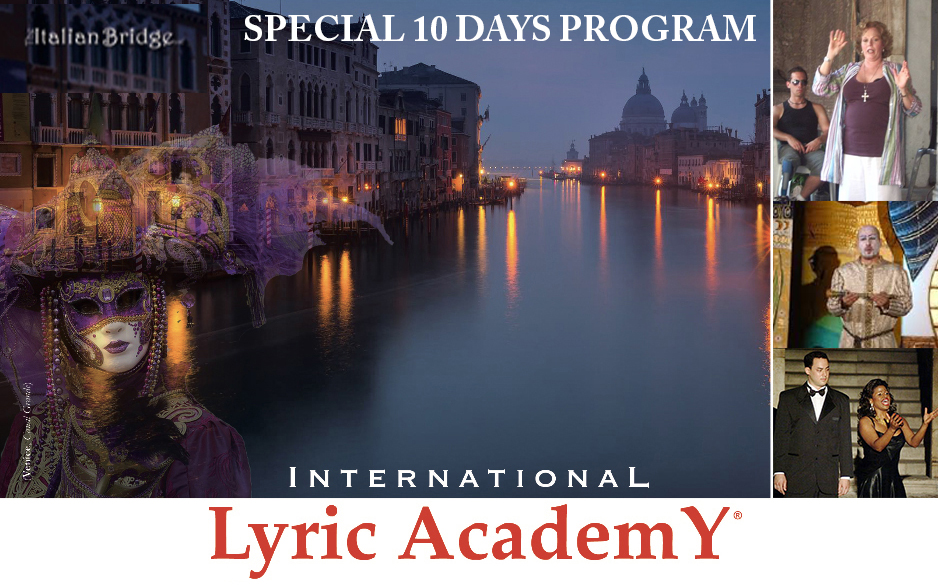 For The International Lyric Academy 2019, 25 years celebrating, we are giving the opportunity to take advantage of a Special offer.
"Special 10 days intensive Program"
We offer last-minute Academy deals, so you can create the ideal trip to sing in Italy without planning months in advance.
Be part of the Concert Opera Program in Italy, Vicenza July, a "10 days intensive Program" with Voice Lessons, Coachings, Master Classes, Solo Concerts and auditions for managers!
Our Program
2019 Season
The International Lyric Academy (ILA) offers young musicians and singers from all Nations an educational and performance opportunity in Italy – Vicenza and Venice. The program is organized by The Italian Bridge, LLC.

During several intensive weeks, ILA's emerging Artists receive professional coaching and voice lessons, and participate in a full range of masterclasses, individualized instruction, concerts, recitals and rehearsals culminating in two performances of DON GIOVANNI by W. A. Mozart. Productions involve full opera in costume with the Orchestra. Additionally, Artists participate in the Italian Opera Program, a special session dedicated to opera scenes from Donizetti, Verdi and Mozart along with the opportunity to study the roles with Italian coaches and maestros.

For specific dates, program information and costs, please consult the program list from the menu at left above.

2019 REPERTOIRE

OPERA:

DON GIOVANNI by W. A. Mozart

MOZART MARATHON: Arias and duets from all Mozart's Operas. Find all info in the Mozart Marathon section.

OPERA SCENES: Find all info in the Opera scenes section.

LYRIC CONCERTS (Opera, Lieder, Chansons and Musical Theater)

________

SACRED WORKS:

STABAT MATER by G. B. Pergolesi

EXSULTATE JUBILATE K. 165 by W. A. Mozart

LAUDATE DOMINUM K. 399 by W. A. Mozart

________


CHAMBER MUSIC:

for Orchestra professors according with their repertoire

________

SYMPHONIC CONCERTS:

S. Rachmaninoff, Piano Concerto #2

W. A. Mozart, Clarinet Concert K.622, Exsultate Jubilate K.165

G. B. Pergolesi, Stabat Mater

W. A. Mozart, Exsultate Jubilate K.165

Singers benefit from repertoire and diction coaching, Italian language instruction, master classes, acting, training for auditions, and career strategy. Instrumentalists play in ILA's professional Symphony Orchestra and in chamber music concerts.

POSITIONS: Singers – leading roles, supporting roles, soloists, cover understudy, ensemble and chorus. Instrumentalists – orchestra, piano accompanists. Apprentices – assistant conductor, assistant director, technical assistants.

OPPORTUNITIES: Opera productions with professional orchestra, opera in concert with piano and instrumentalist ensemble, recitals, master classes, sacred works with orchestra, chamber music. The Artistic Director may choose a select group of artists for additional auditions in Italy with international agencies and artist managers.

LOCATION: Vicenza and Venice; historical venues, courtyards and Theaters.

HOTELS: Academy full tuition includes all classes and accommodations in a marvelous, convenient hotel. All rooms have bathroom and include daily maid service and breakfast. Single occupancy rooms are available for an additional cost and must be reserved when the first deposit is due. Lunch and dinner are not included.

ROUNDTRIPS: Roundtrip travel to and from the airport is not included, is the responsibility of each participant and must be reserved on your own. If you want to use our private transportation please ask us!

ARRIVAL AND DEPARTURE DATES: Please read the following details

SINGERS, PIANISTS, ORCHESTRA: Arrive in Italy at Venice Marco Polo Airport (VCE) July 3 and depart from Venice July 29.

MUSICAL THEATER Arrive in Italy at Venice Marco Polo Airport (VCE) July 3 and depart from Venice July 13.

MOZART MARATHON: Arrive in Italy at Venice Marco Polo Airport (VCE) July 3 and depart from Venice July 15.

OPERA SCENES: Arrive in Italy at Venice Marco Polo Airport (VCE) July 3 and depart from Venice July 29.

ENSEMBLE: Arrive in Italy at Venice Marco Polo Airport (VCE) July 3 and depart from Venice July 29.

TOURS: Venezia, Verona and Vicenza are available upon request but are not included.

INSURANCE: All participants must have health insurance in effect during the time period with the Academy. ILA can recommend a travel insurance company should you need assistance.

SCHOLARSHIPS: Scholarships are available – both merit and need-based.

AUDITIONS: Auditions for singers, ensemble, chorus, apprentices, pianists, conductors and instrumentalists are required. Live auditions or audition tapes (recorded within the last year) are accepted for review.

AUDITION FEE: An initial $40.00 non-refundable audition fee is due at the time of the audition or included with mailed in audition tapes. Checks should be made payable to: IAOF.

PROGRAM FEE and COSTS: If accepted, please see specific programs listed (at right from the top) for full costs of participation. Send tapes, rèsumè and check payable to the "Italian American Opera Foundation", at the address below:

International Lyric Academy in Italy
PO Box 65501
West Des Moines IA – 50265
Cell. Ph. +1 323 595 0890

To review information about all our programs, please click the corresponding link on the menu above.

For application materials or to ask questions, you can contact:

Phone: +1 323-594-0890
Whattsapp: +1 323-594-0890

Apply now at: www.internationallyricacademy.com