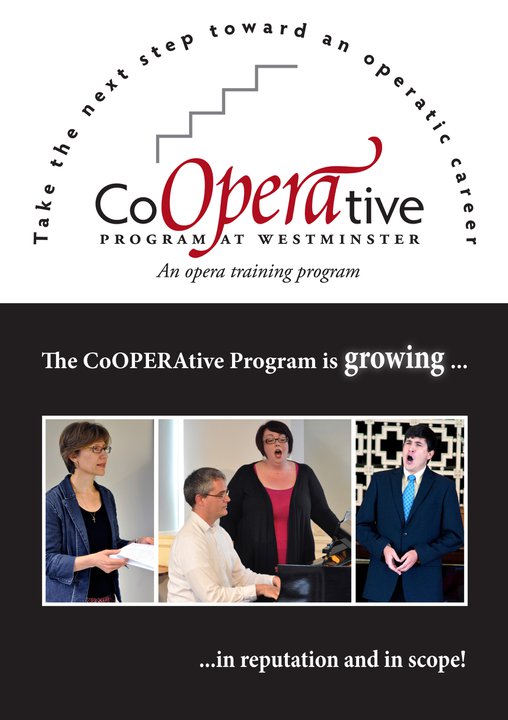 Although most singers can easily describe their career goals, it may be challenging to map or define their route along the way. Should I apply for this young artist program or that one (or both)? Am I ready for this major competition? How will this opportunity aid me in my pursuits?
One would be hard pressed to find a more dedicated and knowledgeable guide than Laura Brooks Rice, who serves as co-director of the CoOPERAtive program and faculty member at Westminster Choir College. We spoke with Miss Rice and her co-director at the CoOPERAtive program, Christopher Arneson, about the program and about training programs in general.
---
Please share a brief description of the CoOPERAtive program and about the program's target audience.
Approaching its seventh year, Westminster's CoOPERAtive Program provides three weeks of intensive opera training for young singers. The program is presented in cooperation and consultation with professionals in the field of opera and is designed to help young singers prepare for the essential next step toward acceptance into an advanced young artist or summer apprentice program.
CoOPERAtive is designed to assess the strengths of all participants, nurture their talents and assist in their skill development. Participants receive private coaching focusing on operatic style, performance techniques, dramatic presentation, language and diction, body awareness, as well as résumé and application advice.
CoOPERAtive features unique auditions, in which singers are evaluated by professionals in the field of opera – advisors involved with regional opera and/or young artist programs. With their guidance, the program is customized to each singer's needs to help improve his or her skills.
At what stage in their career should singers apply for a training program?
When they are post undergraduate work for the Young Artist division and when they are in Graduate school or just post Graduate school, for the Fellows division. Singers need to use the small group of advisors they have (voice teacher, coach, other music professionals) to systematically assess their skill level as they move through academia. Knowing where they are in their skills should give them an idea which programs are best suited for them.
What are the important factors that singers should consider when choosing to apply for a particular program?
What the program has to offer them to help them realize their potential. Our program is a unique program which focuses on individual, one on one instruction, helping each singer develop skill sets that were identified as needing attention, during their audition for the program.
What should singers plan, hope or expect to get out of a top quality training program?
They should leave with a sense of who they are as artist/singers and with specific tools and goals related to their technique, their artistry and their business plan which they will use to continue to grow.
What sets the CoOPERAtive program apart from other offerings?
The faculty. Every one of our faculty is affiliated with a major opera company or Young Artist Program and so there is a built-in network for the singers who participate. The faculty is highly qualified, based on their affiliations and experience, to help these young singers achieve their goals.
What do you perceive as the general differences between a training program and a young artist program?
Performance (casting) experience vs. coaching
Are there factors to consider that would indicate a singer is not ready for a training program? Or beyond a training program?
If there is insufficient technical development so that they can benefit from the advise and direction which the faculty offers. If they are not emotionally mature enough to accept criticism and suggestions that may mean reworking aspects of their technique, repertoire and artistry
Some singers worry that a training program will not reflect well on a resume when applying to young artist programs; what are your thoughts?
It's not an issue with the CoOPERAtive program. Our reputation has grown to a point that people who hear auditions for Young Artist Programs know that singers who have been involved in the CoOPERAtive Program are better prepared and have experience working with coaches and teachers and directors of the highest quality.
Any other concerns that have been raised about training programs in the past that you'd like to debunk?
It is important to differentiate between what is perceived as a 'pay to sing' and a 'tuition based' program. Ours is a tuition based program where singers are coached by some of the best conductors, pianists and directors in the world. It is not a performance based program, although there are regular, public performances where they can "test drive" their arias before them trot them out in the audition season.
Any terrific success stories you'd like to share from previous CoOPERAtive sessions?
There are many to mention. We have lists of our singers on our web site and usually about 25% of our singers are accepted into high level apprentice program, been accepted into graduate programs and placed in recognized competitions. Graduates of the program have been finalists in the Metropolitan Opera Council's National Auditions and have gone on to work with opera companies throughout the United States.
Like this discussion? Please share your thoughts on our Facebook page at or contact us . The CoOPERAtive program is currently accepting applications for the 2012 summer season; more information can be found on our Opportunities page and our Applications page.