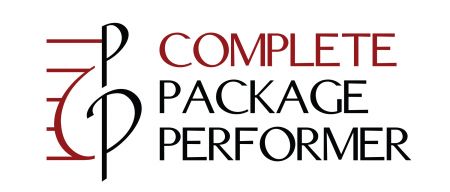 Singer's Audition Boot Camp 2016
August 15-21
San Francisco, CA
www.completepackageperformer.com
Singers are invited to participate in an intensive week designed to completely polish their auditions. Participants are asked to bring 2-5 memorized arias, musical theatre crossover or required selections for conservatories or graduate schools. At the end of the week, singers will receive feedback on their audition from a panel of music professionals who make casting decisions and perform a selection of arias and songs for an invited audience in a concert.
Faculty
Jose Maria Condemi, Jane Randolph, Dr. Jeffrey Sykes, Dr. Kristina Driskill, Stephen Guggenheim, Raeeka Yaghmai and Susan Gundunas
Singers will get
Master Classes in Vocal Technique and Acting for Singers
Classes on Overcoming Performance Anxiety and Creating Confidence
A Seminar in Marketing and Using Social Media
Individual Resume and Bio editing with advice on Head shots
Classes in Musicality, Text and Musical Theatre for Classical Singers
Individual sessions in Vocal Technique, Musicality and Dramatic Presentation
To perform for and receive written feedback from a Panel of Casting Professionals
To perform in a Concert of Arias and Songs
A Video of their Audition
Tuition $950.00 due by July 1, 2016
The camp caters to professional and emerging professional singers and serious advanced student singers who are auditioning for graduate school or conservatories. The camp will be limited to 12-15 qualified singers.
Please send a resume, headshot and video or sound recording of 2-3 arias and songs in at least two languages along with one or two letters of recommendation from qualified music professionals to completepackageperformer@yahoo.com or by mail to CPP Singer's Audition Boot Camp, 1362 26th Ave, San Francisco, CA 94122 by June 1, 2016. Applicants will be notified of their acceptance by June 10, 2016.
*
www.completepackageperformer.com
*