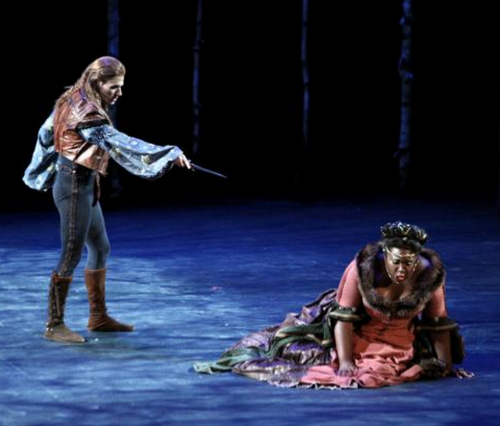 Chautauqua Opera Company
Young Artist Program Auditions
NY, NY USA
Type: Young Artist Program
Age limit: 35
Deadline: apply by

Thursday, October 1, 2015

Chautauqua Opera is accepting applications for the 2016 Young Artist Program! Under the supervision of Artistic/General Director Steven Osgood and Carol Rausch, Music Administrator/Chorus Master, it is recognized as one of the best training programs for young singers in America today.
Each year, the Chautauqua Opera Young Artist Program attracts hundreds of applicants, of which approximately 500 are invited to auditions in New York City in late November/early December. From those auditions, 26-30 Young Artists are chosen to participate in the summer season at the Chautauqua Institution in beautiful Chautauqua, NY.
Chautauqua's 2016 mainstage repertoire includes Verdi's "La Traviata" directed by Keturah Stickann and Gilbert and Sullivan's "The Mikado" directed by Ned Canty. Many principal, featured and supporting roles for all voice types will be assigned to Young Artists, who will work alongside established Guest Artists in both productions. Apprentices are also featured in two concerts (opera highlights and pops) with the Chautauqua Symphony Orchestra, while Studio Artists are featured in recitals, a scenes program, musical theater revues, and outreach events.
The Chautauqua Opera Company Young Artist Program includes housing, paid travel, and a weekly stipend. Young Artists have a wealth of performance opportunities, including main-stage roles and covers: for the 2016 season, only three roles in each show will be cast from outside the Young Artist Program, leaving a large variety of roles (as well as all covers) to be filled by Young Artists. In addition, Young Artists engage in concert performances with the Chautauqua Symphony Orchestra, outreach and musical theater performances, and more! Chautauqua's Young Artists also receive extensive musical coaching, have the opportunity to participate in master-classes given by distinguished artists, agents, and voice teachers, and audition for other opera companies and for top artist management agencies during the season.
For more information on the Chautauqua Opera Company's Young Artist Program, please visit the company's website: http://ciweb.org/opera-young-artists-program