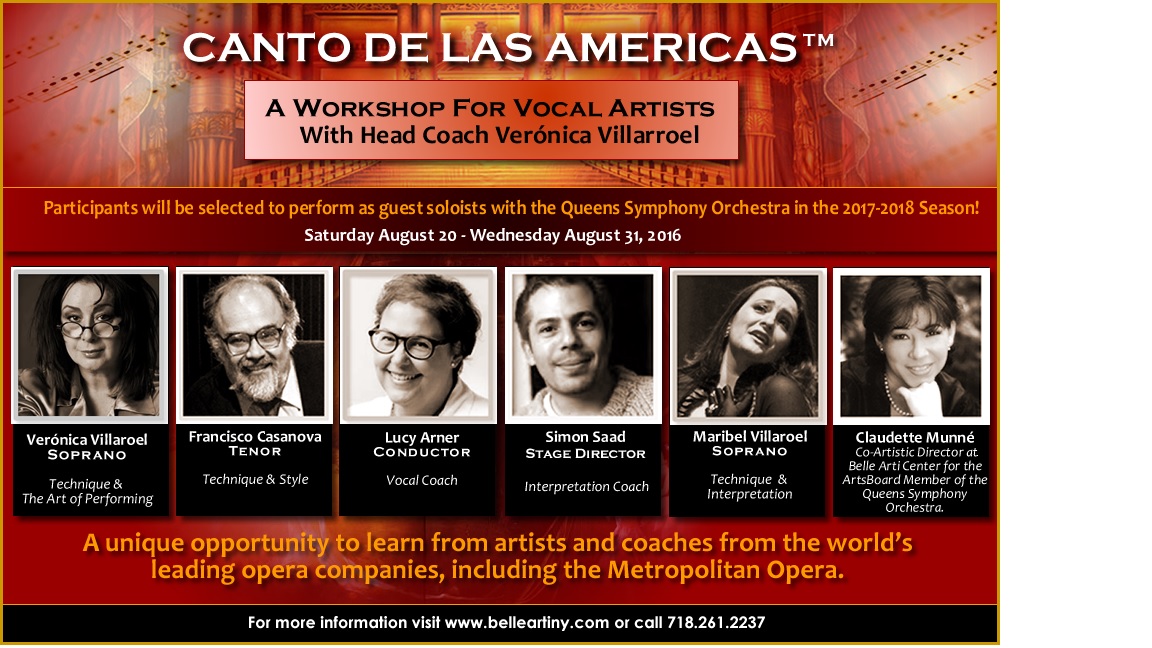 New from Canto de las Américas™-A Workshop for Vocal Artists™: Master Classes in New York City (August 23, 24, 25) Now Open to the Public!
An exciting opportunity for singers to work on audition, competition and performance repertoire with world renowned artists and coaches, soprano Verónica Villarroel, tenor Francisco Chahin Casanova, Maestra Lucy Arner and Stage director Simón Saad, who have more than 100 years of accumulated expertise among them. Each one of them has been at work - in companies ranging from the Metropolitan Opera, to the greatest theaters of the Americas, Asia and Europe - for well over a quarter century, not only as a voice teacher or a coach, but as a professional doing what our students want to do. To learn more about Canto de las Américas™ and our coaches, please visit http://belleartiny.com/cantodelasamericas.html
Masterclass Pricing*
$80 for 1 Masterclass
$150 for 2 Masterclasses
$200 for 3 Masterclasses
*Accompanists are provided. (Participation in the program's final performance on Saturday, August 27thwill be determined by the faculty.)
Masterclass Schedule*
Tuesday, August 23, 2016 with Verónica Villarroel & Lucy Arner (Manhattan location)
Wednesday, August 24, 2016 with Lucy Arner & Simón Saad (Manhattan location)
Thursday August 25, 2016 with Lucy Arner & Francisco Chahin Casanova (Manhattan location)
*Exact start times and locations TBD. These classes will be held in the evening.
Singers interested in participating and benefiting from this exciting opportunity can apply by sending a current résumé and a video recording to Directors@belleartiny.com.
These masterclasses will be open to the general public at a cost of $20.00 admission. For more information please contact us at (718) 261-2237 , email at Directors@belleartiny.com or visit http://belleartiny.com/cantodelasamericas.html