American Lyric Theater's upcoming festival, InsightALT, runs from May 28th to June 3rd in New York City. The festival opens with a special master class on role creation on Tuesday May 28th at 7PM, and a Symposia on "Fantasizing History" in opera on Wednesday May 29th at 7PM, moderated by Cori Ellison, with conductor Steve Osgood, baritone Daniel Belcher, and guest librettists and composers.
ALT has a limited number of comp tickets available for singers, pianists and coaches in NYC for these two events. Comp ticket requests will be filled on a first come, first served basis. Please email your request to EdwardBarnes@altnyc.org no later than this Friday, May 24th. In addition, ALT is offering a 25% discount off of tickets to other festival events, including concert readings of three new operas, by using code PAR25. See the attached photo for the full list of events!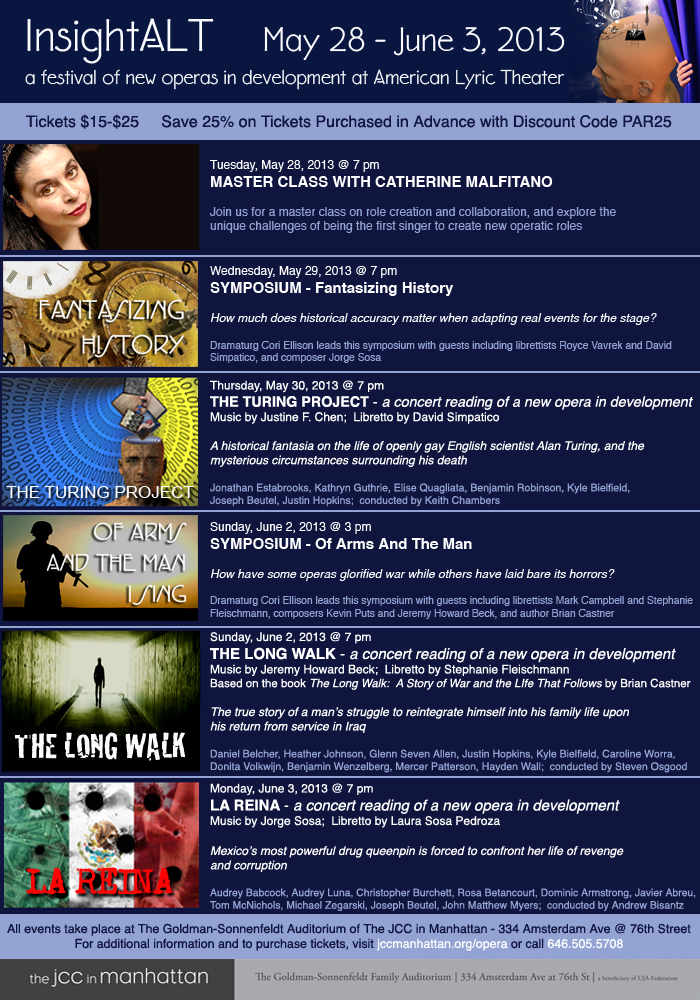 ---
Like this offer? Please share your thoughts on our Facebook page or contact us. Want to offer free tickets to our members? Please email us at any time and we'll be glad to share wtih our members.